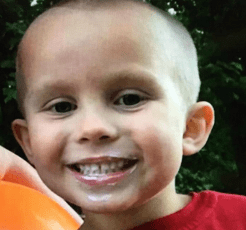 Details have emerged in the kidnapping and murder of five-year-old James Spoonamore and the assault of his mother, Jessica Durham, 37.
Lonnie Belt, 41, of McKee, has been is charged with assault, kidnapping  and murder after beating and tossing Durham off an 80-foot cliff in the Daniel Boone National Forest, then murdering her son by hitting him in the head several times with a metal object.
In a search of Belt's home, police recovered a hammer, the weapon possibly used in killing Spoonamore.
According to multiple reports, in the beating and fall, Durham suffered a head injury, broken elbow and shattered pelvis among other injuries.
Kentucky State Police said that Belt, after being arrested at his home on Saturday afternoon, admitted assaulting Durham and killing Spoonamore after Belt and Durham, who live very near one another, argued over money.
Belt told police he then took Spoonamore to an area about a half-mile from where he left Durham for dead, hit him in the head "multiple times" with a metal object, and left his body in the woods, police said.
Police said Belt abducted Durham and Spoonamore from Durham's home, striking the woman over the head before placing both mother and son in his car.
Belt is being held in the Jackson County Detention Center on a $500,000 bond.