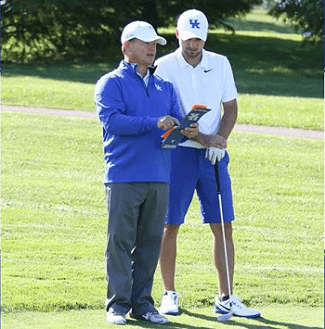 (CINCINNATI, Ohio) – Quite simply, Monday at Coldstream Country Club will forever be etched in the record books. And if its a sign of what's to come from this Kentucky men's golf team, well it will be able to point to this moment as a defining turn in the season.
The Wildcats emerged as the leader through 36 holes of play at the two-day, 54-hole Bearcat Invitational, highlighted by a Brian Craig era program record of a 15-under par, 269, score during the second round of play. The score betters the Craig era record of 273 by four strokes. The previous record was set on three different occasions most recently, twice during the 2013-14 season.
Kentucky leads the field with a 21-under par score, four shots in front of fellow Southeastern Conference member Arkansas. Ohio State is in third at 14-under par.
UK's four individual scores consisted of three 4-under rounds and one 3-under score. Leading the charge was senior Chip McDaniel who surged into a tie for second place with a 9-under combined score through two rounds of play. He's a mere stroke off of the pace for the individual crown.
Junior Lukas Euler and senior Cooper Musselman matched McDaniel's second round, 67, while junior Fred Allen Meyer carded a 68. Combined UK's players accounted for 22 birdies and just seven bogeys during the historic round, and three players set new career-low scores.
Kentucky will resume action at 9:35 a.m. ET off the No. 1 tee on Tuesday. With a four-stroke advantage, the Wildcats will be looking for a second-consecutive team title after winning the season's opening event at the Wolf Run Intercollegiate earlier this month.
Coach Craig's Takeaway
"What a day for the Wildcats today at Coldstream. I could not be more proud of these boys for their exceptional play for all 36 holes. The second round was absolutely brilliant with a 15-under par, 269, on a superb golf course. In addition, a big tip of the cap to Fred Allen Meyer. He was 4-over par after three holes this morning, with a couple of bad breaks, and showed tremendous grit as he battled back to a 71 and then a 68 in the afternoon. That is awesome."
Player Roundup
The players began the day with a shotgun start and played 36 continious holes of golf. McDaniel began at the par-four seventh and was even par through the opening three holes. He birdied the 10th before suffering bogeys on two of the next three holes. He quickly shook off the adversity and birdied six of his next 11 holes, including three of his final four in the opening round of play.
His second round began in the same fashion – earning par on the opening three holes before another birdie at the par-five 10th. He had two more birdies over the course's back nine, and at one point was at 5-under for the round before a bogey on the sixth finalized his score at 4-under. McDaniel is in a three way tie for second place for the tournament.
Euler, perhaps playing the best golf of his career, finished the day in a tie for eighth at 6-under through the opening 36 holes of action. Euler logged scores of 69 and 67. The 67 marked a new career low for the Dieburg, Germany, native. He had a pair of birdies on both the front and back nines to combat a bogey on each side of the course during the first 18 holes of play. His second round featured three birdies on either side compared with just two bogeys for the round.
As Coach Craig mentioned, Meyer faced an uphill battle to begin the day. He was 4-over par after the first three holes of his opening round. He gained a shot back on the 13th, before giving it right back on the 14th. Four-consecutive pars seemed to settle the Nicholassville, Kentucky, native as he picked up a birdie on the par-four first. An eagle at the fourth sparked another red number at the par-four seventh for an even par round. His magic continued into the second round of the day, which featured six total birdies. The second 18 holes of play featured a stretch of three-consecutive holes in red numbers en route to a 68. The 68 marked the second career-low round of the day for the Wildcats.
Not to be outshined by his teammates, Musselman was his usual steady self with a 1-over round to begin the competition. He then exploded for a 4-under, 67, behind a stretch of play in which he birdied three of six. Musselman's second-round 67 matched a career-low score. Musselman and Meyer are tied for 14th following the opening day of play.
Sophomore Matt Liston posted rounds of 73 and 74 and finished in a tie for 49th. Senior Evan Cox finished in a tie for 57th with scores of 76 and a bounce-back 72.
The Bearcat Invitational features a starting lineup of six players with just four scores counting towards the team total.
The Tournament Setup
Teams: Akron, Arkansas, Cincinnati, College of Charleston, Illinois, Kentucky, Louisville, Michigan State, Middle Tennessee State, Mississippi State, Ohio State, Xavier
Course Details: Coldstream Country Club is one of Cincinnati's premier private clubs situated on 190 idyllic areas, featuring elite, championship 18-hole golf course. It has served as the backdrop to numerous Ohio amateur and open championships as well as USGA qualifiers.
Format: Par 71, 7,150 yards – Play six and count four scores
Schedule of Play: Final 18 holes on Day 2
Tuesday, Sept. 26 – Round 3 (Kentucky begins at 9:35 a.m. ET off the No. 1)
Live Look: Live stats are available via golfstat.com.
Forecast: Tuesday (High of 88 and sunny)
Agate
1 – Kentucky (278, 269 – 547, -21)
T2 – Chip McDaniel (66, 67 – 133, -9)
T8 – Lukas Euler (69, 67 – 136, -6)
T14 – Fred Allen Meyer (71, 68 – 139, -3)
T14 – Cooper Musselman (72, 67 – 139, -3)
T49 – Matt Liston (73, 74 – 147, +5)
T57 – Evan Cox (76, 72 – 148, +6)
For the latest on the Kentucky men's golf team, follow @UKMensGolf on Twitter and on the web at UKathletics.com.
By: UK Athletics
Photo Courtesy of UK Athletics