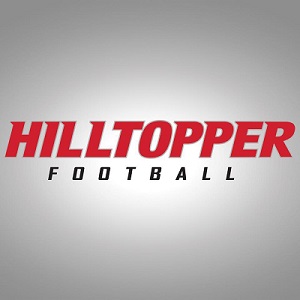 (IRVING, Texas) — With a game-clinching pick six in WKU's 33-21 victory over Ball State, senior defensive back Joe Brown was voted Conference USA Co-Defensive Player of the Week, it was announced Monday afternoon.
Brown also added three solo tackles and a quarterback hurry. It is the first such honor for the Louisville native, and the first defensive weekly award won by a Hilltopper since linebacker Nick Holt on Nov. 30, 2015. Coming into the season with two career interceptions, the 2017 Jim Thorpe Award Watch Lister has made a fourth-quarter pick in back-to-back games.
On Saturday vs. the Cardinals, Jakairi Moses had just put WKU ahead 26-21 with 98 seconds left and the defense took the field in an effort to hold that advantage. On third-and-10 from the 24 yard line, Ball State quarterback felt pressure from the Hilltopper line and attempted a pass to teammate Riley Miller near the sideline. Brown jumped in front of the intended receiver, plucked the pass and sprinted 34 yards to the end zone to seal the 12-point victory.
"It was a great call by Coach [Clayton] White. Salute to the guys in front, they made it tough for the quarterback," Brown said in the post-game press conference Saturday night. "I saw the route, I jumped it, and the rest is history from there.
"It's definitely something exciting that everyone wants to do for a football team. A big play had to be made, so why not me?"
It was Brown's first-career interception returned for a touchdown, but the second time he has put points on the board for the Hilltoppers. Last season at Marshall, Brown picked up a blocked extra point by Julien Lewis and took it back for two points in a 60-6 WKU win. He also recorded an interception that evening, which he returned for a career-long 51 yards.
With two interceptions through Week 4, the 2017 Preseason Conference USA Teamer is tied for the league lead with three others. Meanwhile, the pick six is also 1-of-4 among league members so far this season.
Brown was voted C-USA Co-Defensive Player of the Week with UTSA sophomore linebacker Josiah Tauaefa, who returned a fumble recovery 22 yards for a touchdown in a 44-14 win over Texas State. The Roadrunner added five assisted tackles, one quarterback hurry and one pass breakup.
How to Follow the Hilltoppers: For complete information on WKU Hilltopper Football, follow the program via social media @WKUFootball on Twitter and Facebook.
By: Bryan Fyalkowski
Picture Courtesy of WKU Football on Facebook