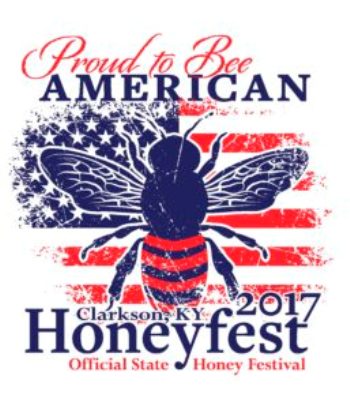 The 23rd annual Clarkson Honeyfest kicks-off on Wednesday afternoon with Decorating Contest judging set to begin at 2:00.
The Midway will open at 5:00 (Armbands are $10), and the Honeyfest 5K Race and Walk start at 6:00.
Thursday offers the Kids Run for the Honey race at Clarkson City Park beginning at 5:00, with Gospel Singing at 5:30. A Cooking Contest, held at the old city hall building, will begin at 6:00.
The Midway opens at 5:00.
On Friday, activities begin a littler earlier in the day, with Bed Turning taking place at Sew Much More at 10:00 Friday morning, and 2:00. There will be a silent auction at old city hall from 5:30 until 7:30, with the Honeyfest Hat Contest beginning at 6:00.
Shotgun Serenade, a big hit at last year's Honeyfest, will be on stage beginning at 6:30.
The Midway opens Friday afternoon at 4:00 (Armsbands $15), with food vendor booths opening at 5:00.
On Saturday morning, the 15 to 30 Mile Bike Ride (beginning at Clarkson Elementary) will start at 6:45, with Craft Booths opening at 8:00.
At 9:00, the always entertaining Clarkson Honeyfest Parade will begin.
After the parade, there will be a Car and Tractor Show at Clarkson Elementary, and a Tae-Kwon-do Martial Arts Demonstration held in the Bank of Clarkson parking lot. A Dinner and Silent Auction will also be held at St. Elizabeth's Church.
And Saturday morning, Karaoke Contest Sign-ups will be accepted from 11:00 until 11:45. The contest begins at Noon.
At 2:00, Bed Turning will take place at Sew Much More, and a Pedal Tractor Pull contest will begin.
Providing live music from 5:00 until 7:00 will be Down on Filth, followed by local favorite Graffitti Layne, who takes the stage from 7:00 until 11:00.
Hay Rides, provided by the Clarkson Fire Department, will be offered Wednesday through Saturday night, and Carriage Rides will be available on Friday and Saturday.
By Ken Howlett, New Director
Contact Ken at ken@k105.com or 270-259-6000