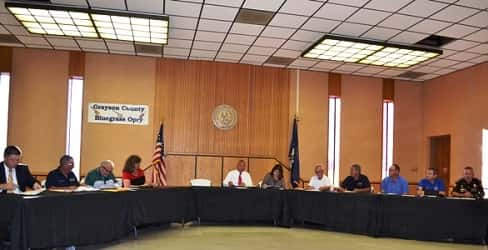 On Tuesday afternoon, in the first Grayson County Fiscal Court meeting held on its new day and time (4:00), Judge-Executive Kevin Henderson and Magistrates approved making several changes, updates and repairs regarding county government personnel and property.
After a 45 minute Executive Session, Henderson emerged saying that former county road worker Kenny McCrady has been rehired, and that the road department is looking to hire a part-time worker to operate the county's new mower –Henderson also announced that all road complaints will now come to him, as calls to the road department will now be routed to the Judge-Executive's office.
Henderson noted that the old courthouse on the Town Square is in dire need of repairs to the roof and other sections of the building that are falling apart. Henderson said he's received one bid in the amount of $67,000 to fix the courthouse roof, but before that can be done an architectural firm will be hired to evaluate the structure and help plan a course of action. The Judge-Executive said that Brandstetter Carrol, an architecture/engineering firm out of Lexington, has said it will charge the county $12,000 to give officials the "exact scope of what we need to do … we have a major problem that has to be alleviated," Henderson said. Magistrates voted to begin accepting other bids for a "structural engineering" firm to complete an evaluation of the condition of the old courthouse.
Henderson said that, according to the county's mechanic, 17 of 20 county owned vehicles are unsafe to drive, and the county is declaring the vehicles surplus property and will place then up for sale on govdeals.com. He said the county will purchase "five or six" vehicles to replace those in dire disrepair.
In another bit of unfortunate news, Henderson told Magistrates that the bulldozer the county purchased "a couple of years ago" for $16,000 has blown its engine. He said it will take $5,750 to replace the engine and $1,800 to install the motor. With the other components of the dozer being in "good shape," Magistrates voted to replace the motor rather than purchase a new bulldozer. In a related matter, Magistrates voted to repair a back hoe that needs the floor replaced and has no brakes. Henderson said it will cost "$3,000 to get it back to safely operating order."
In yet another vehicle repair scenario, Henderson said that a 13-year-old CDL box truck that the Grayson County Food Alliance uses on a weekly basis to pick up food in Hardin County is in tremendous disrepair. Henderson said that, "If it underwent a DOT inspection it would be seized," as the brakes only work on one side of the truck. The vehicle has 322,000 miles on the odometer and will take about $4,000 to fix, which Magistrates voted to do.
In a move bringing county government into the 21st century, Henderson said all Magistrates will be given an email address, and that the county will very soon have a Facebook page in which to post important information as well as be a "tool for the public" to voice concerns and questions.
In other Fiscal Court business, Jailer Jason Woosley asked for and received permission to move forward with the process of expanding the jail. Magistrates voted to allow Woosley to begin advertising for bids for an architecture firm to evaluate the property and draw up a Grayson County Detention Center expansion plan.
Woosley also received permission from Fiscal Court to pay $5,000 for another year of the Rocket Docket procedure, which he says "speeds up the court process and gets inmates out of the jail sooner."
By Ken Howlett, News Director
Contact Ken at ken@k105.com or 270-259-6000