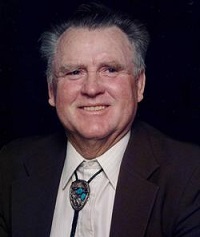 Elliott McCormick, age 88, of Leitchfield, KY, passed away Sunday, (October 1, 2017) at Springview Nursing and Rehab in Leitchfield.
He was born on May 24, 1929, in Whiting, IN, the son of the late Ireland and Fanny Ferry McCormick.
He was a retired roofing contractor. He was the owner of McCormick Roofing.  He enjoyed hunting and fishing.
He is survived by his wife of fifty-four years, Genevieve Woolen McCormick of Leitchfield; three sons, Donald McCormick (Jean) of Caneyville, Ronald McCormick of Louisville, and Ronald Lee Poynter (Shirley) of Leitchfield; daughter, Marcella McCormick Burbda Stevenson of GA; eight grandchildren, six great-grandchildren; four sisters, Beatrice Preston of Philpot, Nelda Taylor (Bill) of Uttica,  Joyce Dennison (Allen) of Louisville, Betty Tyler of Louisville; two brothers, Willie Ray McCormick (Linda) of Irvington, Charles Lee McCormick (Joyce) of Sulpher KY; and sister-in-law, Patina McCormick.
Other than his parents, he was preceded in death by his first wife and mother of his children, Pauline Farris McCormick;  one grandchild, Troy McCormick; brothers, Robert McCormick, Jasper Lee McCormick; sisters, Della Pearl, Gertha Elms; step-mothers, Millie and Bertie McCormick; sons-in-law, Joe Burba, Harold Dean Stevenson; and brothers-in-law, Estil Preston and Bill Taylor.
Funeral services will be at 11:00 a.m. Thursday, (October 5, 2017) at the Dermitt Funeral Home in Leitchfield. Burial will be in the Leitchfield Memory Garden Cemetery.
Visitation will be at the Dermitt Funeral Home from 2:00 p.m. to 8:00 p.m. on Wednesday and from 9:00 a.m. Thursday until time of services.