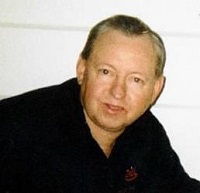 Roger Wilson, age 61, of Leitchfield, KY, passed away Sunday, (October 1, 2017) at the Kentuckiana Medical Center in Clarksville, IN.
He was born on May 08, 1956 in Millwood, KY, the son of the late Lee and Mamie Hodges Wilson.
He was a maintenance worker for Bel Cheese for 30+ years and enjoyed hunting deer, raccoon, and turkey, cooking, and spending time with his grandchildren. He attended the Church of God of Prophecy.
He is survived by his wife, Robin Thompson Wilson of Leitchfield; two daughters, Lynn Robinson (Michael) of Leitchfield, KY and Amanda Sebastian (Jeremy) of Stanford, KY; four grandchildren, Madison Leann Layman, Wyatt Lee Robinson, and Walker Lane Robinson, all of Leitchfield, and Bryson Cole Sebastian of Stanford, KY; two brothers, Kelly Wilson of Leitchfield and Tommy Wilson (Yu Ping Wang) of Washington; three sisters, Rose Trafton (Rick) of Louisville, KY, Nell Stewart of Leitchfield and Jo Ann Borges (Melvin) of Hawaii. Several nieces and nephews also survive.
Other than his parents, he was preceded in death by four brothers, Jay, Douglas, Robert and Floyd Wilson; and a sister, Lucille Stanton.
Funeral services will be at 2:00 p.m. Friday, (October 6, 2017) at the Dermitt Funeral Home in Leitchfield. Bro. Cecil Williams will be officiating. Burial will be in the Claggett Cemetery.
Visitation will be at the Dermitt Funeral Home from 5:00 p.m. to 9:00 p.m. on Thursday and from 9:00 a.m. Friday until time of services.
Online condolences can be made in the guestbook on our website at www.dermittfuneralhome.com.