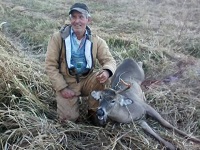 Lanny D. "Possum" Carroll, 70, of Bee Spring passed away at 1:39 AM Oct. 3, 2017 at his home.
The Edmonson County native was a lineman for P & E and a farmer. He was a son of the late Harlan Carroll and Dora Saltsman Carroll. He was preceded in death by three sisters, Susan Carroll, Agnes Wolfe and Evellen Jaggers; and four brother, James, Jimmy, Franklin and Danny Carroll.
Funeral services will be held at
11:00 AM
Friday
at New Salem General Baptist Church, where he was a member, with burial to follow in the church cemetery. Visitation will begin at
1:00 PM
Thursday
at the church. Gravil Funeral home is in charge of arrangements.
Surviving are his wife, Nelsie Marie Meredith Carroll; two sons, A.J. Carroll (Helena) and Eric Carroll both of Sweeden; a daughter, Jennifer Devers (Scott) of Bee Spring; two brothers, Billy Carroll of Bee Spring and Denny Carroll of Mammoth Cave; a sister, Emogene "Mance" Coulter; ten grandchildren, Christopher Glenn Carroll, Miranda Higgs, Elizabeth Marie Carroll, Erin Hudson, Haley York, Taylor Carroll, Tyler Carroll, Anna Beach, Megan Jent and Joseph Carroll; and six great grandchildren.