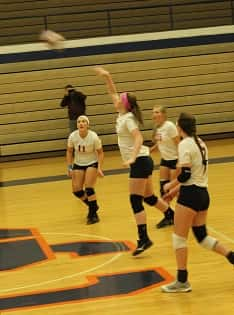 Both the JV and Varsity volleyball teams earned straight-set victories Tuesday evening at the Cougar Den over the visiting Frederick Fraize Lady Aces, from Cloverport. The JV girls took their match 21-6, 21-18, while the varsity won 25-10, 25-13.
In the opener, the JV girls got off to a quick start as Brieanna Boll served five straight aces. Frederick Fraize was able to close to within three points of the lead at 7-4, but that would be as close as they would get the rest of the set.
Leading by six points, 12-6, Kenzie Skaggs took the serve and served out for the win. Skaggs served five aces and Ella Robinson and Gracie Vanmetre both had kills during the run.
In the second set, the visitors jumped out to an early 4-1 lead before the Lady Cougars began coming back. Vanmetre served a pair of aces in a 4-0 Grayson County run that put them in front 5-4.
Grayson County led by as many as eight points and earned their first match-point at 20-13, but the Lady Aces refused to go quietly. Katelyn White tipped a ball at the net to stave off elimination, then Karly Booty served four straight Lady Aces points to bring it to 20-18. Robinson then ended the match with a kill that trickled over the tape.
In the opening set of the varsity match, the visitors were able to open a 5-1 lead at the start. A Briannah Wagner kill tied the score at 6-6 before a Lady Ace hitting error gave Grayson County its first lead of the set at 7-6. Senior Julie Carroll followed that up with an ace to make it 8-6 and Grayson County never trailed again.
A Frederick Fraize hitting error sent it to set-point at 24-10 and junior Laura Higdon put the set away with an ace.
With the game tied 1-1 in the second set, senior Meredith Pawley served seven straight points to put the Lady Cougars in command of the match. Carroll had four kills during the run.
Grayson County increased its lead to 10 points, 19-9, before the teams went into neutral. Seven straight rally points ensued before senior Mackenzie Coates took the serve with the Lady Cougars on top 23-13. A Lady Aces hitting error gave Grayson County match-point at 24-13, when sophomore Alexis Hart won a duel at the net to give the Lady Cougars the 2-0 win. Grayson County (10-20) will play its final match of the regular season on Thursday when they host the Owensboro Lady Devils (12-18).