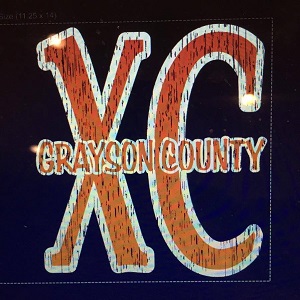 The Grayson County cross country teams traveled to Franklin-Simpson High School last Saturday morning to take part in the Wildcat Wilderness Invitational.
The Cougar men garnered a third-place finish accumulating 69 points. South Warren finished first in the meet with 22 points, while Warren East was second with 58.
Senior Jarrett Crawford was the top finisher for the Cougars, coming in seventh of the 78 runners in the field. Crawford's time for the 5K run was 17:14.83. South Warren's Matt Wininger took first with a time of 16:19.59.
Grayson County had no fewer than 15 runners who toed the starting line. Also earning points for the Cougars were senior Jacob Stinnett, ninth overall with a time of 17:35.64, senior Eli Thomas, 16th in 18:03.58, freshman Lucas Gallagher, 21st in 18:31.31, and senior Luke Weedman, 22nd in 18:36.80.
Running out of the points were: freshman Eli Helm, 24th in 18:40.64; senior Noah Saltsman, 28th in 19:04.86; sophomore Isaac DePoyster, 32nd in 19:30.02; seventh-grader Peyton Nash, 38th in 20:14.54; senior Ethan Hayse, 41st in 20:45.70; junior Gabriel Mudd, 46th in 21:08.46; freshman Jacob Smith, 47th in 21:12.30; junior Blake Childress, 53rd in 21:49.47; senior Brennan Childress, 54th in 21:51.76 and freshman Austin Bolton, 77th in 28:55.88.
The Lady Cougars had only four runners in the race, one short of the number needed to qualify for a team score. Franklin-Simpson's Jaydee DeGraffenreid was the individual winner with a time of 19:56.13.
Senior Grace Childress was the first Lady Cougar across the line, finishing 12th overall of the 53 runners with a time of 23:00.05. Eighth-grader Chloe Wilder was 16th with a time of 23>37.48, senior Kennedy Childress was 39th in 25:48.67, and junior Emery Crume was 42nd in 26:15.40.
The Cougar harriers will be in action again this coming Saturday when they travel to Central Hardin High School for the Ryan Snellen-Bruins Cross Country Campus Ramble.
Photo courtesy of Facebook