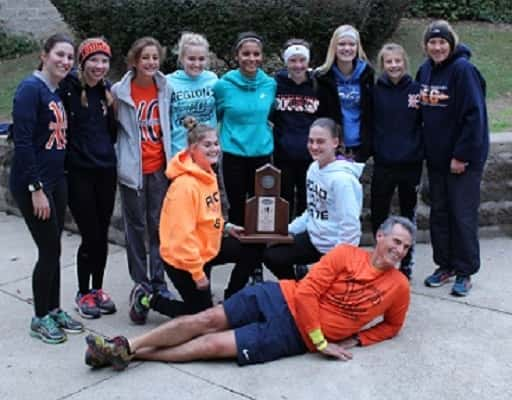 Junior Hailey Stallings capped a great day for the Grayson County High School cross country program by capturing the individual title at Saturday's Class 3A Region Two finals, held at Green County High School, in Greensburg.
Both the boys and girls team qualified to run in next weekend's Kentucky State Cross Country Championships, which will be held at the Horse Park, in Lexington.
Both teams had outstanding finishes, with the Lady Cougars capturing the runner-up trophy, and the boys finishing third overall of the 10 teams participating.
Eighth-grader Elizabeth Evans just missed earning a medal with her ninth-place finish, while senior Jarrett Crawford did earn a medal with his seventh-place finish.
South Warren was the big winner on the day as they took home both championship trophies. The South Warren girls took first with 40 points, followed by Grayson County in second with 88 points. Also qualifying as teams were third-place Greenwood (100), Meade County (108), and Bowling Green (119).
On the boys side, South Warren had 33 points, followed by Central Hardin (63), Grayson County (77), Meade County (118), and Greenwood (144). Central Hardin's Josiah Harp was the individual champion with a time of 16:24.70 for the 5K race.
Stallings was in a battle for first with Central Hardin's Emily Chandler through the first mile-and-a-half, but shortly thereafter made a powerful move on an uphill portion of the race and put some distance between them. She then added to her lead through another uphill portion through some woods, and by the time she reached the finish line she was all alone. Her winning time was 19:48.00.
Evans, the young eighth-grader coach Anthony Miller called, "Our secret weapon!" ran a terrific race, coming in with her top-10 finish in 21:23.59. Another eighth-grader, Chloe Wilder, was not far behind Evans, finishing 22nd overall with a time of 22:29.39.
Junior Kaylee Masden finished 23rd, just behind Wilder, with a time of 22:31.68. Senior Grace Childress, who has been battling shin splints all season, soldiered home in 23:24.80 for 33rd place and the final scoring position for the Lady Cougars.
Senior Kennedy Childress and junior Emery Crume were the other Lady Cougar runners competing on the day. Childress finished 50th with a time of 24:32.71, while Crume, finished 55th in 25:47.58. Crume had been a runner who could be counted on for points heading into the season, but was considerably weakened by a bout of mononucleosis. She will be back next season hopefully at full strength.
On the Cougar side of things, Crawford finished his race with a time of 17:15.88. Senior Jacob Stinnett finished 10th in 17:35.52, while freshman Lucas Gallagher was 16th in 17:51.39. Seniors Eli Thomas and Luke Weedman completed the scoring runs for the Cougars. Thomas finished 18th in 17:58.11, while Weedman was 26th in 18:13.48.
Running out of the points for the Cougars were freshman Eli Helm, 48th in 19:11.86, and senior Noah Saltsman, 57th in 19:52.08.
Five runners from non-qualifying teams also earned trips to the state finals. Chandler led the efforts for the girls, with Meade County's Elizabeth Shannon and Sarah Hall also qualifying. Janayla Watts, from North Hardin, and Katie Roeder, from Barren County were the final two qualifiers.
On the boys side, Johns Hendricks, from Logan County, Kyle Embry, from Ohio County, Ben Gardner and Liam Dale, from Central Hardin, and Deshawn Crowe, from Bowling Green will also head to Lexington.
By Don Brown, Local Sports
Reach Don at donbrown@k105.com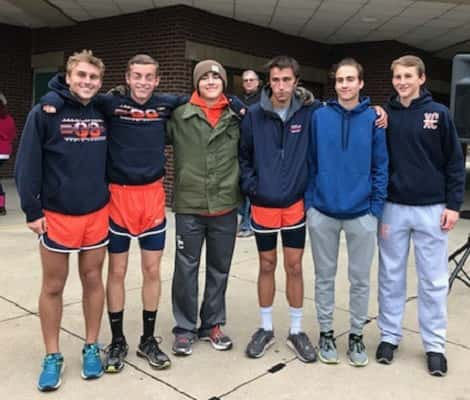 The Cougars earned a trip to Lexington with their
third-place finish.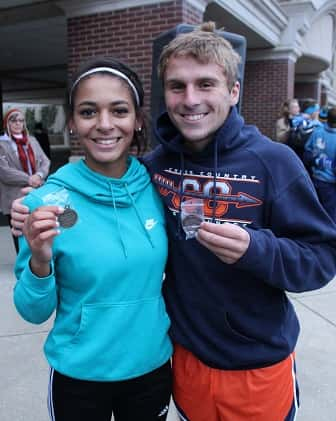 Hailey Stallings and Jarrett Crawford
displayed their medals.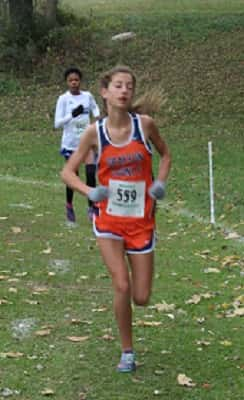 Eighth-grader Elizabeth Evans
finished ninth for the Lady Cougars.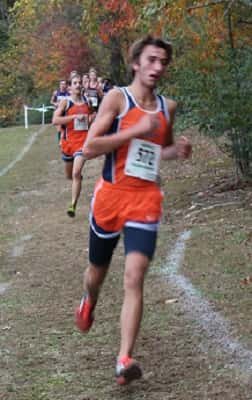 Nearing the halfway point of the race,
Jacob Stinnett led the way for Eli Thomas