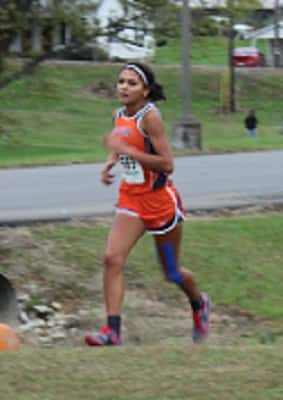 Junior harrier Hailey Stallings capped a banner day for the Grayson County High School cross country program and she finished 13th of the 278 runners in the Kentucky State 3A Cross Country Championships last Saturday at the Horse Park in Lexington.
Both the boys and girls teams had top-20 finishes on the day. The Lady Cougars finished 15th overall out of the 35 teams assembled for the 5K final. The Cougars finished 18th on the day of the 36 teams on hand.
Stallings ran her race with a time of 19:37.23. The individual title went to Louisville Male's Kaitlyn Lacy, who finished with a time of 18:03.09. Louisville Manual was the overall team winner with 42 points, followed by Oldham County in second with 74 points, and Daviess County, third with 167 points. The Lady Cougars scored 471 points.
Others earning points for the Lady Cougars were, eighth-grader Elizabeth Evans, 75th overall with a time of 21:25.96, junior Kaylee Masden, 102nd in 21:56.56, eighth-grader Chloe Wilder, 163rd in 22:57.39, and senior Grace Childress, 190th in 23:24.05.
Running out of the points were senior Kennedy Childress, 225th in 24:30.31, and eighth-grader Elizabeth Lucas, 274th in 27:03.55
Senior Jarrett Crawford was the first Cougar across the line as he finished 45th out of 278 runners in the final race of his high school career. His time was 17:14.89. Louisville Male's Dylan Allen was the individual titlist, finishing with a time of 15:44.33.
Louisville St. Xavier won the team title with 66 points, followed by Louisville Trinity with 84 points, and South Warren, third with 202 points. The Cougars scored 527 for the 18th spot.
Earning points for the Cougars were senior Jacob Stinnett, 119th in 18:02.54, senior Eli Thomas, 126th in 18:06.62, freshman Lucas Gallagher, 134th in 18:11.27, and senior Luke Weedman, 167th in 18:31.52.
Running out of the points were senior Noah Saltsman, 206th in 18:52.42, and freshman Eli Helm, 228th in 19:03.48.