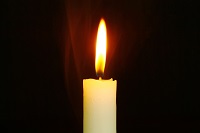 Aaron D. King, age 30, of Leitchfield, KY, passed away Tuesday, (November 7, 2017) at his home.
He was born on April 19, 1987 in Leitchfield, KY, the son of David Wayne King and Freda Haynes Duvall.
He was a construction worker, who enjoyed building motorbikes.
He is survived by his wife, April Dennison King of Leitchfield; two step-daughters, Kelsey Raney and Kayla Meredith, both of Leitchfield; four step-grandchildren, Christopher, Jordan, Zara and Kinslee; a sister, Tonya Smith (Matthew) of Leitchfield; his mother, Freda Duvall of Leitchfield, his father, David Wayne King of LaGrange, KY; his maternal grandmother, Florean Haynes and his paternal grandmother, Mary King, both of Leitchfield. One aunt, Debbie Newton (Jerry) of Leitchfield and three nieces, Maggie, Amelia and Elizabeth also survive.
He was preceded in death by a step-grandchild, Memory Mudd; a niece, Alison White; maternal grandfather, Allen Haynes; and paternal grandfather, Joseph "Jobie" King.
Funeral services will be at 1:00 p.m. Saturday, (November 11, 2017) at the Dermitt Funeral Home in Leitchfield. Bro. David King will be officiating.
Visitation will be at the Dermitt Funeral Home from 4:00 p.m. to 9:00 p.m. on Friday and from 9:00 a.m. Saturday until time of services.
Expressions of sympathy may take the form of donations to Dermitt Funeral Home to assist with final expenses.