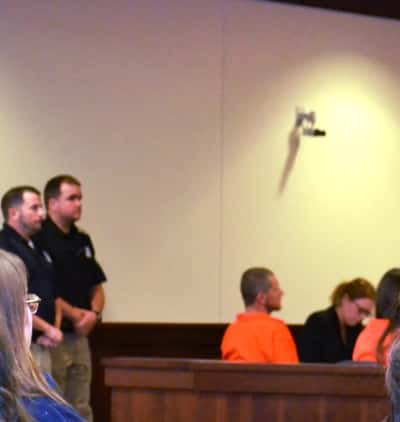 At a preliminary hearing Thursday afternoon, the case of accused murderer Robert Carter was sent to the Grayson County Grand Jury for indictment.
The only witness to take the stand, Kentucky State Police Detective Bryan Washer, said the 35-year-old Carter confessed to killing 29-year-old James Parks at his residence at 101 Southland Drive in Caneyville, sometime in the early morning hours of October 26. The shooting took place in a mobile home in the back of the property.
During testimony, Det. Washer said a flashlight on Parks' nightstand began an argument that resulted in Carter killing Parks. While Det. Washer was light on details regarding the flashlight, beyond saying it was green and yellow, he did state that Carter had loaned or given the flashlight to someone earlier in the day. Seeing the flashlight on Parks' nightstand apparently sent Carter into a rage, perhaps spurred by his methamphetamine use (Carter's arrest citation says Carter was under the influence of meth at the time of the shooting).
Gene Haynes 21, of Millwood, and Crystal Carter (Robert Carter's girlfriend) arrived at Parks' Southland Drive home with Robert Carter in the early morning hours, and according to testimony from Det. Washer, Haynes was not in the room when Carter shot Parks once in the back of the head. Haynes, Det. Washer said, had been in the room during a pre-shooting argument between Parks and Robert Carter, but had left the bedroom prior to Carter shooting Parks.
Crystal Carter, though, was in the bedroom when the shooting took place.
After the shooting, both Carters and Haynes fled the area on Hwy 185 south before running out of gas. Robert Carter told Crystal Carter to "hide in the bushes" while he and Parks got gas for the stolen pickup truck they were traveling in, but Crystal Carter, at daybreak, went to a home on Hudson Road and notified authorities of the shooting.
A manhunt involving several police agencies began for Robert Carter and Haynes soon after Grayson County Deputies discovered Parks' body, culminating in a high-speed car chase in Hardin County, which resulted in the arrest of Carter and Haynes.
After hearing Det. Washer's testimony, Judge Harold Goff sent the case to the Grayson County Grand Jury, which will next meet on Dec. 5.
The multiple other charges Robert Carter faces, including wanton endangerment, theft by unlawful taking, criminal mischief, resisting arrest, tampering with physical evidence, among other charges, were waived to the grand jury for consideration. He also faces bank robbery charges in Ohio County after he robbed the Commonwealth Bank in Fordsville after killing Parks.
Robert Carter remains in the Grayson Count Detention Center on a $100,000 bond. Haynes, who faces charges related to him driving during the high-speed chase, is being held in the Hardin County Detention Center.
By Ken Howlett, News Director
Contact Ken at ken@k105.com or 270-259-6000