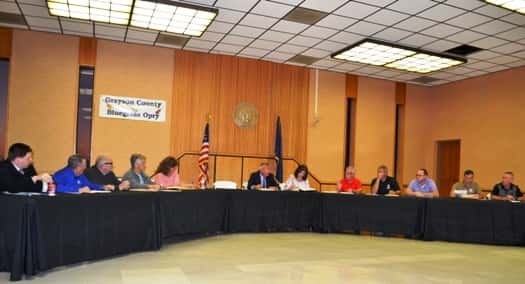 County owned vehicles sold
Grayson County Judge-Executive Kevin Henderson informed Magistrates at Tuesday's meeting that seven county-owned vehicles declared surplus property have been sold on govdeals.com for a total of $30,000.
Magistrates also approved a county-owned 2005 Case back hoe, which was recently flipped onto its top while a worker was putting in tile on Conoloway Road, being offered for sale on govdeals.com. The operator of the back hoe was not injured in the accident.
The back hoe, which was purchased for $19,000, will have a reserve placed on it, with Henderson saying that he thinks the equipment could bring around $15,000.
The county's insurance carrier, which deemed the back hoe totaled, will also remit a check for $18,500 for the equipment.
Henderson negotiates architecture firm's price down $12,000
Henderson said that Brandstetter Carroll, an engineering and architecture firm, will evaluate the roof and failing exterior façade of the old courthouse on the Town Square at a cost of $5,000. The firm had previously said the evaluation process would cost $17,000, but Henderson negotiated that price down.
The roof of the building leaks in several areas, and exterior of the building is visibly deteriorating, and is in need of an overhaul.
Board appointments
John Popham was approved by Magistrates to replace Eddie Anderson on the Airport Board, after Anderson recently resigned the position.
Daron Bell, Jo Escue and Eric St. Clair were all approved to serve their second terms on the County Extension Board.
By Ken Howlett, News Director
Contact Ken at ken@k105.com or 270-259-6000