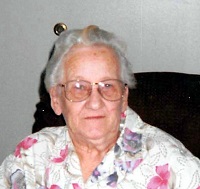 Betty Jean Ashley, age 83, of Leitchfield, KY, passed away Wednesday, (December 6, 2017) at the Twin Lakes Regional Medical Center.
She was born on October 16, 1934 in Springfield, IL, the daughter of Jeremiah "Jerry" and Jewel Esther Gillon Robertson.
She was a housewife, and was of the Pentecostal faith and attended the Decker Holiness Church.
She is survived by one son, Rory Ashley (Daniella) of Spanaway, WA, two daughters, Juanita Fulkerson (Edward) and Ella Louise Henning both of Leitchfield, two sisters, Mary Rosaline Lashley of LaGrange KY and Gladys Marie Johnson of Morgantown, KY, a brother-in-law, Leon Ashley of Leitchfield, two sisters-in-law, Lou Ela Napper of DePaul, IN and Gracie Carter of Louisville.
Other than her parents, she was preceded in death by her husband, Hearl Ashley, an infant son, Roger Dale Ashley, 6 brothers, Charles, Allen, Jerry Jr. Kenneth, James and Bobby Robertson and two sisters, Lula Bell Johnson and Shirley Robertson.
Funeral services will be at 1:00 p.m. Saturday, (December 9, 2017) at the Dermitt Funeral Home in Leitchfield. Bro. Leon Ashley will be officiating. Burial will be in the Hubs Field Cemetery.
Visitation will be at the Dermitt Funeral Home from 10:00 a.m. Saturday until time of services.