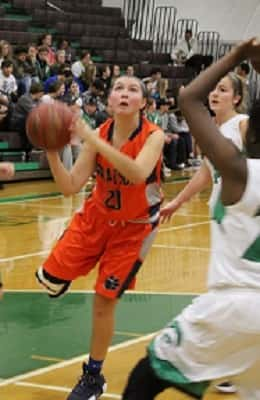 Grayson County's Lady C0ougar basketball team tasted defeat for the first time this season as the Meade County Lady Waves beat them 54-43 Tuesday evening in Brandenburg.
The Lady Cougars took an early 9-4 lead on Hannah Saltsman's three-pointer at the 4:02 mark of the first period, but those would be the last points scored by the Lady Cougars until  the second quarter. The Lady Waves scored the final eight points of the first quarter, then added six more opening the second quarter. The 14-0 run gave the home team an 18-9 lead at the 7:01 mark.
Kenzie Renfrow stopped the Meade run with 1-of-2 free throws with 6:38 left to make it 18-10. The Lady Waves responded with 11 more unanswered points. In all, the Lady Waves outscored Grayson County 25-1 and led by 19 points, 29-10 with 4:38 left in the first half.
Grayson County was able to cut into the lead after that, outscoring Meade 11-4 the rest of the half to trail by just 12 points, 33-21 at the break.
Saltsman's lay-in at the 5:52 mark of the third quarter capped a 7-2 Lady Cougar push that reduced their deficit to just seven points, 35-28. Grayson County would not get closer. Meade County closed out the period on a 13-6 run to give them a commanding 48-34 lead heading into the final period of play, and the Lady Cougars were never closer than 11 points the rest of the game.
Meade County's fine sophomore guard, Kendall Wingler, led the Lady Waves in scoring with 18 points, while senior Ryleigh Board added 10.
Saltsman led all scorers in the game with 20 points, and she added four rebounds and an assist. Renfrow and sophomore Laura Vincent both finished with seven points, with Vincent adding four rebounds, and Renfrow leading the team with three steals.
Senior Brandi Minton scored five points and chipped in three rebounds. Bailey Snyder and Grace Gorby completed the Lady Cougar scoring with two points each, and Snyder added four rebounds.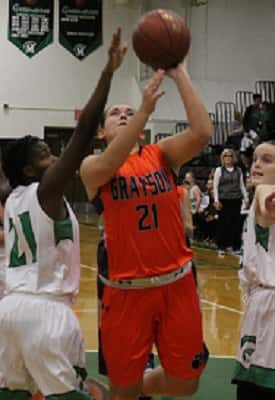 Hannah Saltsman led the Lady Cougars
with 20 points and four rebounds.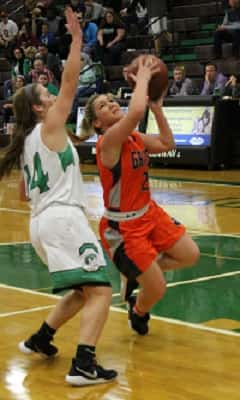 Kenzie Renfrow slipped as she
drove to the hoop in the third quarter.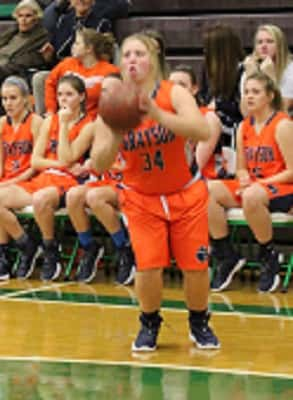 Bailey Snyder lined up a three-pointer
in the third quarter.