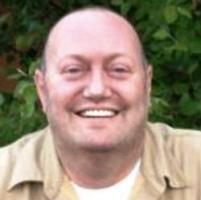 James Walter Keown, age 51, of Millwood, KY, passed away Thursday, (December 14, 2017) at Twin Lakes Regional Medical Center in Leitchfield.
He was born on September 30, 1966 in Leitchfield, KY, the son of the late Bernard Keown, Sr. and Linda Miller Keown.
He was a server at Red Lobster in Elizabethtown, where he loved his co-workers and customers. He was a former stage manager and associate producer at Gaylord Entertainment/Opryland, and General Jackson Showboat. He attended Bethel University in McKenzie TN, studying arts.  He had an amazing tenor voice that is certain to have Heaven's choir in awe. He had a beautiful smile and an infectious laugh. James loved his animals and called them his children. Surviving him are his fur babies, Carly, Lil Walter, Blondie, Bandit, Gabrielle, and Esmoralda.  He had been a member of Millwood Cumberland Presbyterian Church until their closing.
He is survived by his mother, Linda Keown of Millwood; two sisters, Jackie Parks (Jimmy) of Louisville, Christie Mann (Rodney) of Cecilia; brother, Bernard Keown, Jr. (Marylee) of Jeffersonville, IN; his nieces and nephews, Brittany, Brice, and Adam Keown, Jessica, Jordan, Jennifer, and Jocelyn Parks, Nick Gall, Kori and Connor Mann; his aunt, Janet Kessinger of Caneyville; best friends, Robbie Miller, Keith Johnson, Jeff McDonald, and Jimmiesue Staten, and a host of other friends.
He was preceded in death by his father, Bernard Keown, Sr.; grandparents, Walter and Edna Miller, and Roma and Loretta Keown.
Funeral services will be at 2:00 p.m. Monday, December 18, 2017) at the Dermitt Funeral Home in Leitchfield. Bro. Donald Farris and Bro. Bill Macy will be officiating. Cremation will follow after the service.
Visitation will be at the Dermitt Funeral Home from 1:00 p.m. to 8:00 p.m. Sunday and from 9:00 a.m. Monday until time of services.
Expressions of sympathy can take the form of donations to assist with funeral expenses.
Online condolences can be made in the guestbook on our website at www.dermittfuneralhome.com.