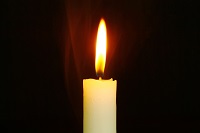 Jeraldine Dunbar Probus, age 83, of Leitchfield, KY, passed away Saturday, (December 16, 2017) at Grayson Manor Nursing and Rehab.She was born on November 30, 1934 in Hart County, KY, the daughter of the late Gilbert Dunbar and Ethel Harkness Dunbar Sims.
She was a housewife, who enjoyed reading her Bible, listening to gospel music, and sewing. She attended and enjoyed the church services offered at Grayson Manor, and was a strong believer in the Pentecostal faith.
She is survived by her daughters, Gale Miller of Louisville, Vickie Embry (David) of Leitchfield, Ginger Clark (Tim) of Leitchfield; sons, Terry Probus of Florida, James Probus (Darlene) of Edmonton, KY, Tim Probus (Paula) of Clarkson; nine grandchildren and eight great-grandchildren.
Other than her parents, she was preceded in death by her husband, Herbert
Probus; son, Frankie Probus, granddaughter, Gale Marie Probus; sisters, Dale Miller and Janon Duggins; brothers, Gilbert Dunbar and Loy Dunbar.
Funeral services will be at 11:30 a.m. Wednesday, (December 20, 2017) at the Dermitt Funeral Home in Leitchfield. Bro. Billy Mason will be officiating. Burial will be in the Duff Cemetery.
Visitation will be at the Dermitt Funeral Home from 10:00 a.m. to 8:00 p.m. Tuesday and from 9:00 a.m. Wednesday until time of services.
Online condolences can be made in the guestbook on our website at www.dermittfuneralhome.com.