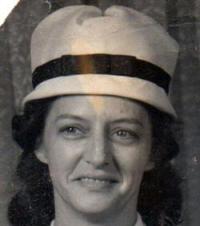 Velma Christine Yates Hall, 89, of Owensboro went to be with our Lord on Thursday, Dec. 14, 2017.
She was a graduate of Valley High School in Louisville. She had a vivacious spirit and a loving
presence that would warm the heart of every person in the room. She loved to share the scriptures and
the messages of her faith to all who would listen, and for those that wouldn't, she would the holy
spirit on them. I smile as I write this because everyone reading this knew the amazing wit and sense of
humor of this woman.
I have seen her reach in and lift people from the darkest places. She wasn't afraid to reach in to love
someone or to help someone in need, even if she was also struggling herself. Velma knew to treasure
people and that God had everything else waiting on her at home with Him. She loved the beatitudes
and the scripture. "I am the way, the truth, and the life: no man cometh unto the Father, but by me."
You can't think of Velma without mentioning God and things of the spirit. She was a member of
Relevant Faith Church in Owensboro.
She was truly a jack-of- all-trades, but the best seamstress I have ever met. She worked in the Luau
Room at Standiford Field Airport as a telephone switchboard operator and seamstress.
The most important job to Velma, though, was being a mother to her sons, Wayne Turner and Michael
Hall; as well as a grandmother to Tiffany, Christopher, Alexa and Evan. Her love of music, God and
life will live on through all of them.
All are welcome to come celebrate her life. Her graveside service is 1 p.m. Tuesday at Claggett United
Baptist Church Cemetery on Owensboro Road in Leitchfield.
The family would like to acknowledge and thank Riverside Care and Rehabilitation Center in Calhoun
for their loving care and being a second family to her.
In lieu of flowers, the family asks that you adopt a pet or donate to the Humane Society in Owensboro
(www.owensborohumane.org) if you are able to do so.
Online condolences can be made in the guestbook on our website at www.dermittfuneralhome.com.