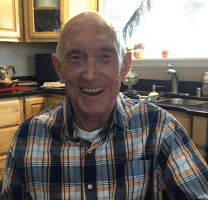 Guinn "Shorty" Cooley, age 83 passed away on December 17, 2017 at his home. He was born in Adair County, the son of Elbert and Rebecca Brock Cooley and was married to Betty Dudgeon Cooley.
He was a Machine operator at Brown & Williamson, a Free Mason, Deacon of Needham Presbyterian Church and enjoyed hunting and fishing.
Funeral services: Wednesday, December 20, 2017 at 11:00 AM CST at Rogers-Oller Funeral Home with Bro. Jimmy Douthitt officiating. Burial will follow in Mt. Hebron Cemetery.
Visitation: Tuesday, December 19, 2017 from 2-8 PM CST; Wednesday, after 9:00 AM CST at Rogers-Oller Funeral Home.
He was preceded in death by his parents; a son, Ricky Cooley and a grandson Myron Rich.
Shorty is survived by his wife, Betty; two daughters: Karen Dodson and Rhonda Mather; a son, Eddie Cooley; five grandchildren: Brian Clemons, Scott Cooley, Chasity Johnson, Rebecca Laginess and Joshua Cooley and six great-grandchildren.