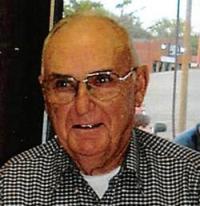 Roger Lee Langdon, age 78, of Leitchfield, KY, passed away Sunday, (December 17, 2017) at Grayson Manor in Leitchfield.
He was born on January 03, 1939 in Grayson County, KY, the son of Robert and Daisy Hockenbury Langdon.
He was a farmer and painter and a member of the Grayson County Cattleman's Association. He was a member and Deacon of the Claggett United Baptist Church.
He is survived by his wife, Margaret Ann Stevenson Langdon; one daughter, Rita Wilson (Lance) of Leitchfield; one son, Russell Langdon (Annette) of Leitchfield; five grandchildren, Tia Watson (James), Robert Wilson (Meghen), Brandy Heavrin (Ray), Laura Beth Kiper (Bryan), David Langdon (Ellie); six great grandchildren, Miles Wilson, Reese, Leo and Myles Kiper, Emily and Isaiah Cooley; two brothers, Hershell Langdon of Leitchfield and Maurice Langdon of Louisville; and one sister, Lucille Langdon of Leitchfield.
Other than his parents, he was preceded in death by a son, Ronald Langdon; and two brothers, Charles Langdon and Shelby Langdon both war veterans, Shelby was killed during World War II.
Funeral services will be at 1:00 p.m. Thursday, (December 21, 2017) at the Dermitt Funeral Home in Leitchfield. Bros. Wayne Tomes and Lance Wilson will be officiating. Burial will be in the Claggett Cemetery.
Visitation will be at the Dermitt Funeral Home from 2:30 p.m. to 9:00 p.m. Wednesday and from 9:00 a.m. Thursday until time of services.