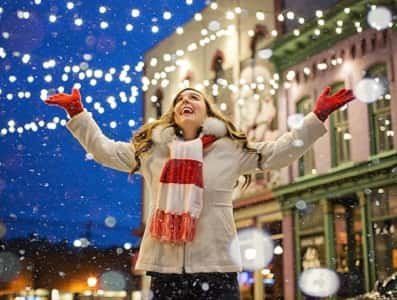 We are officially 5 DAYS AWAY FROM CHRISTMAS! It is such an exciting, but busy time. So, how do you make sure that you are really getting the most out of your Christmas gatherings? Memories guaranteed to help you when you begin to miss all the Christmas cheer and Holiday Holly Jolliness? No worries, Special Kayla is here with tips on how to ensure that you get the most out of your upcoming Christmas gatherings!
Unplug from Social Media and Texting- I know this is hard for everyone, but to really soak in all the moments, put the phone down and just enjoy being with your family. I promise, Facebook and Twitter can wait.
Bring back Family Game Night- Christmas is about being with those you love the most and what is better than a good ole game of charades to really get everyone laughing and bonding together? Just to be safe, I wouldn't recommend Monopoly- it might actually ruin the family fun.
Swap Stories and Really Listen When Someone Shares- Unfortunately, there will be a time when you will want to hear some of your family members "old stories," but you can't, so take the time, while you have time, to listen to those stories and learn from them. Cherish the moments that you have been blessed enough to receive.
Learn a New Recipe from the Event's Main Chef- We aren't kids forever and at some point you will be expected to bring a dish (this was my new reality at this year's Thanksgiving). So, take the time to learn your family's recipes from those who usually prepare them. You will need the advice someday.
Take Time to Remember the Real Meaning of Christmas- I am guilty of getting caught up in the gift giving and I am always worrying if I am spending too much or not enough and I frequently forget that Jesus is the real reason for this season. Take some time to sit with your family and read from the chapter Luke about a baby boy born and laid in manger. It is a humbling experience to say the very least.
Set a Price Limit on Presents- Rather than inflicting immense stress about gifts on everyone, worry more about the joy that someone receives when getting a present, and not if they noticed the $100 price tag on it. Christmas should be less about money and gifts and more about enjoying your family and friends.
Sing Christmas Carols- This long-lived tradition is one that has been given up in some homes, but I vote to bring it back! Laughing and singing are part of the Christmas fun and this is guaranteed to make for a lasting Christmas memory.
Make Dinner a Potluck Meal- Rather than one person being confined to the kitchen and missing a lot of the fun, make dinner a potluck! Everyone brings a dish, which results in everyone being involved when the fun starts. And don't forget potluck also means everyone cleans up, but the faster you clean, the quicker you can get back to the party.
Christmas comes once a year, don't spend it stressing or texting or doing anything except having fun with those you love and cherish the most.
Until next time.
From all of us here at K105, have a very Merry Christmas!