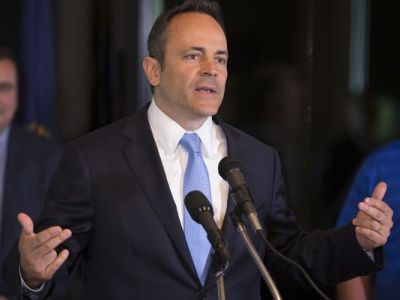 Gov. Matt Bevin warned Thursday that government services will face another round of significant budget cuts, including to programs that people have considered untouchable in the past.
"It won't be pretty," Bevin told reporters gathered at the Capitol for a year-end press conference. "Things that have been exempt are not necessarily going to be exempt because we can't afford it to be There is going to be cuts spread across things people think are sacrosanct."
Lawmakers are set to gather in Frankfort on Jan. 2 for the start of a legislative session that will include crafting a two-year budget. A cash-hungry retirement system for government employees will need an additional $700 million at a time when state revenues are declining.
Bevin wants lawmakers to approve an overhaul of the pension system early in the legislative session. The latest proposal, which ran into major opposition from government employees and was shelved by House lawmakers, would have created a 401(k)-style plan for new hires while capping benefits for current employees once they reach 27 years of service.
Bevin also highlighted what he considered his administration's top accomplishments for the year, including what he called record-breaking numbers for industrial development and for corporate investment in the state.
"The best we had seen was $5.1 billion, which is a large number for a state our size," he said. "We still have the possibility of another announcement or two, but we are already at $8.9 billion for 2017."
That translates, he said, to 16,472 new jobs created this year, bringing the total during the two years of his administration to 34,000 and $12.4 billion in new investment.
"There's never been any two-year period that's been close to that on either front," Bevin said.
When asked by reporters if he intends to seek re-election to a second term, Bevin replied: "We'll see. I have a year and some change to make that determination and make that announcement."
By Kentucky Today