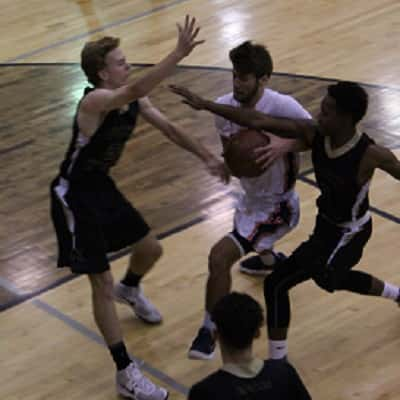 After leading by as many as 17 points in the third quarter, the Cougars allowed the Ft. Knox Eagles to pull back to within a point of the lead in the fourth quarter before finally pulling away for a 51-45 win in the opening round of the Cecilian Bank Classic, being contested at Breckinridge County High School, in Harned.
Grayson County never trailed after hitting five three-pointers in the first quarter and grabbing a 19-10 lead at the start of the second period. The Cougars first four made shots were three pointers and they added one more before the end of the period.
The Eagles were able to shave a point off the lead at the half, when they trailed 26-18. Grayson County then opened the third quarter by scoring the first nine points to take their largest lead of the night, 17 points at 35-18.
That's when the Eagles began turning things around behind the efforts of their quick point guard, Joshua Derivas. In the final 5:41 of the third period, Derivas scored 11 of his game-high 20 points, including a pair of three-pointers, to help pull the Eagles to within 40-35 heading into the final period of play.
When Darius Whitfield canned a three with 5:32 left in the game, the Eagles had pulled to within a single point, 40-39. The Cougars responded with a 9-2 run, capped off by Caleb Ray's fourth three-pointer of the evening, and the lead was pushed back up to eight points, 49-41 with 3:03 left to play, and the Eagles were never closer than four points the rest of the game.
Sophomore Nolan Shartzer led the Cougars in scoring with 14 points, and he added six rebounds three assists and a steal and was named the Cougars' Player of the Game following play. Ray finished with 12 points, all of them coming on threes, and he added three rebounds.
Senior Bailey Logsdon scored eight points and led the Cougars on the glass with eight rebounds. Sophomore Josh Embry had six points and three boards, while sophomore Cameron Wells scored five and pulled down three rebounds. Logan Majors and Wyatt Schultz both scored three points to complete the scoring.
By Don Brown, Local Sports
Reach Don at donbrown@k105.com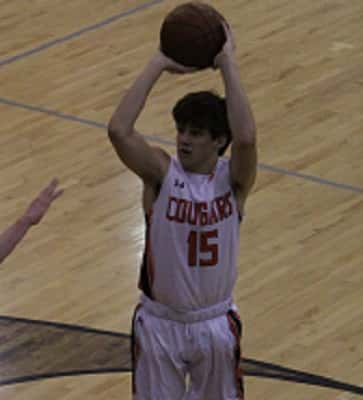 Logan Majors buried this mid-range jumper in the first half.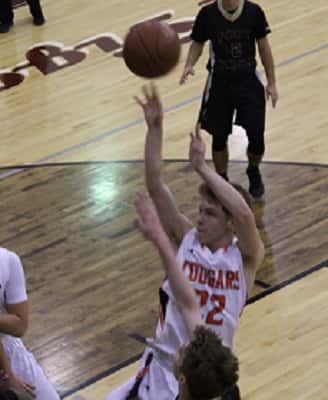 Cameron Wells put up a shot in the lane.
Wells finished with five points.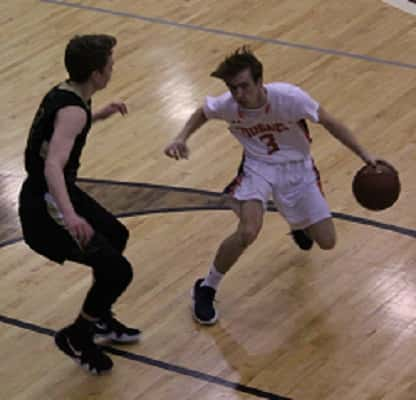 Caleb Ray attacked the lane. Ray hit four
three-pointers for his 12 points.