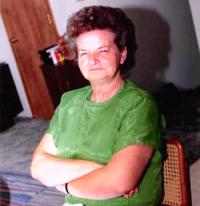 Dorothy Mae Hayes, age 74, of Leitchfield, KY, passed away Monday, (January 1, 2018) in Leitchfield.
She was born on February 23, 1943 in Grayson County, KY, the daughter of Willie Earl and Anna Mae Stone Langley.
She was a seamstress, who enjoyed bowling, watching Kentucky Wildcats basketball, and was a member of Providence General Baptist Church.
She is survived by her daughter, Debra Elliott (David) of Leitchfield, one granddaughter Brittany Elliott of Leitchfield, one brother, James Langley of Leitchfield, and several brothers and sisters in law and nieces and nephews.
Other than her parents, she was preceded in death by her husband Edgar Hayes, and one son, Edgar "Pete" Hays Jr.
Funeral services will be at 3:00 p.m. Sunday, (January 7, 2018) at the Dermitt Funeral Home in Leitchfield. Bro. Cecil Williams will be officiating. Burial will be in the Claggett Cemetery.
Visitation will be at the Dermitt Funeral Home from 4:00 p.m. to 8:00 p.m. Saturday and from 9:00 a.m. Sunday until time of services.
Online condolences can be made in the guestbook on our website at www.dermittfuneralhome.com.