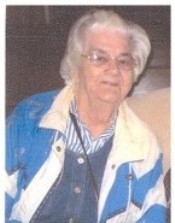 Mary Pauline Stone, age 91, of Leitchfield, KY., passed away on Sunday, December 31, 2017 at Grayson Manor Nursing and Rehab.
She was the daughter of the late Robert and Clare Maude Meredith Kennison She worked many years at Kane Mfg. Co. She loved making quilts and watching wrestling.
Funeral services: Wednesday, January 3, 2018 at 1:00 PM CDT at Watkins-Oller Funeral Home with Bro. Arland Benningfield officiating. Burial to follow in Hopewell Cemetery. Visitation: Wednesday, January 3, 218 after 10:00 AM CDT.
Other than her parents she was preceded in death by her husband, Irvin Stone, three brothers, Nish "Buster", Felix "Pete", Eugene Kennison, three sisters Juanita Rankin, Lucy McCombs and Nannie Wright.
She is survived by several nieces and nephews.