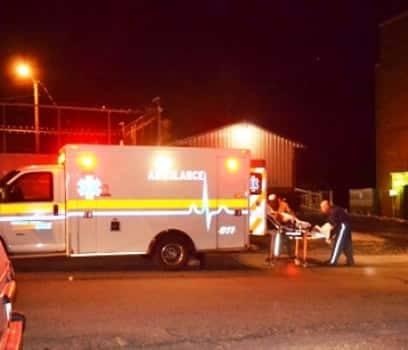 Tuesday night at approximately 7:30, first responders were dispatched to the Grayson County Detention Center Annex, located at 203 South Heyser Drive, on the report of multiple inmates not breathing.
Upon the Leitchfield Police and Fire Departments, and EMS arriving at the scene, officials found four inmates in various stages of respiratory duress, with some of the inmates not breathing at all. All four inmates were transported to Twin Lakes Regional Medical Center by EMS, and were alert and conscious upon transport.
The Grayson County Detention Center (GCDC) has identified the four inmates as 30 year-old Chris Snawder, of Shepherdsville, 37 year-old Justin Warren, of Hickman, 23 year-old Quinterious Collins, of Danville, and 39 year-old Ronnie Rowe, of Flatwoods.
The four inmates recovered Tuesday night and were transferred to the main GCDC facility on Shaw Station Road.
Testing was conducted at Twin Lakes Regional Medical to determine what drugs the inmates ingested.
Jail officials said on Tuesday two of the four inmates, Snawder and Warren, worked outside the facility on work release; Snawder on a detail with the city of Leitchfield, and Warren with the state highway department.
GCDC authorities are investigating whether either inmate gained access to drugs while outside the detention center. Once the investigation is complete, the detention center expects to bring criminal charges against the parties involved, according to a GCDC statement.
Jailer Jason Woosley said he would like to thank all of the agencies that responded to aid detention center staff during the incident. Woosley added that, "They are all valuable partners in keeping our entire community safe."
By Ken Howlett, News Director
Contact Ken at ken@k105.com or 270-259-6000