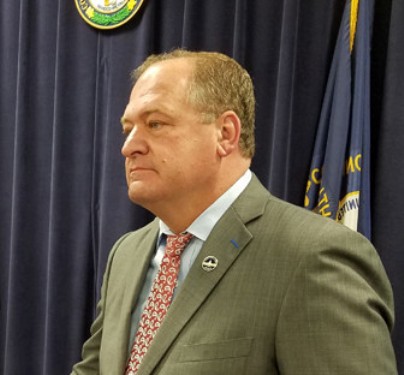 House Speaker Jeff Hoover, who announced his resignation late last year after settling a sexual harassment claim by an employee, is reconsidering his decision.
Hoover said in a letter that he would stand aside as House speaker until an investigation is completed by the Legislative Ethics Commission.
Hoover told The Associated Press and CNHI News Service in a statement on Tuesday that several lawmakers have asked him to reconsider. His name remained in place on the speaker's podium on Tuesday.
Lawmakers convened at the Capitol on Tuesday for the start of the 2018 legislative session with Speaker Pro-Tem David Osborne presiding in the House. Hoover was in the House only briefly Tuesday afternoon, seated in the back of the chamber.
Republicans who hold majority control in the House contend that Hoover's resignation isn't yet official because it hasn't been accepted by his colleagues.
In a statement, Hoover said he has asked Osborne to preside over the House "until further notice."
Hoover has denied committing sexual harassment, but acknowledged sending inappropriate but consensual text messages to a woman who worked for the House Republican Caucus.
An emotional Hoover stood before the Frankfort reporters on Nov. 5 to announce his resignation after acknowledging that he and other Republican lawmakers had privately settled sexual harassment claims by the woman who worked for him in the Capitol.
"I engaged in banter that was consensual but make no mistake it was wrong on my part to do that," he said. "And for that, I am truly sorry. I want to reiterate that at no time, at no time did I engage in unwelcome or unwanted conduct of any kind."
Hoover told reporters at the time that he received a letter on Oct. 17 from a lawyer whose client made allegations of sexual harassment against him and others.
A settlement was reached a week later in which, Hoover said, no one admitted wrongdoing.
Hoover became speaker in January, shortly after Republicans won control of the House for the first time in a century.
By The Associated Press