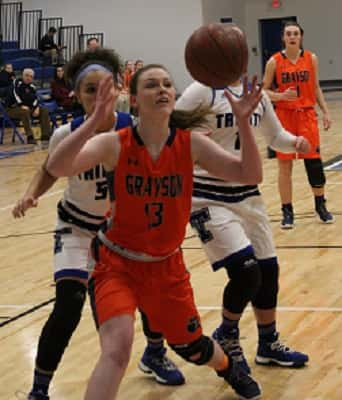 After suffering a pair of key injuries during the holiday basketball season, the Lady Cougars returned to action Tuesday night in Whitesville and came home with a one-sided, 57-40 win over the Lady Raiders in their shining, new facility.
Before the season even began, they learned they would be playing their schedule without senior guard Mackenzie Edwards. Now, following injuries to Hannah Saltsman and Brandi Minton in games played last week in Shelbyville, the Lady Cougars will be without any senior leadership on the floor for the foreseeable future. Saltsman has been told she will be out at least six weeks with a broken right wrist.
Minton's situation is not quite as cut and dried. She will revisit doctors next week for a re-evaluation of her broken right thumb, and it is hoped she will be able to return by the postseason.
In their absence Tuesday night, the Lady Cougars (8-7) got superb performances from three sophomores that kept the Lady Raiders (8-4) having any shot at a win. Since the injuries, point guard Kenzie Renfrow has stepped up her game and has put more emphasis on scoring. She led all scorers Tuesday with 19 points, and she added four rebounds, three assists and a team-high four steals to her all-around fine performance.
Bailey Snyder just missed a double-double night after scoring 14 points and pulling down nine rebounds. Making perhaps the biggest statement of the night was Laura Vincent, who scored in double figures with 10 points, but more spectacularly, made it a double-double night by ripping down 17 rebounds.
Whitesville led just once in the game, 3-2 following Nina Wathen's three-pointer at 7:06. Renfrow's basket at 6:45 was the start of an 8-0 Lady Cougar run that saw them in front 10-3 at 5:38 and they never trailed again. The Lady Cougars led by 11 points, 20-9 at the start of the second period, and they led by 14 points, 31-17 at the half.
A Renfrow rebound basket at the 4:33 mark of the fourth quarter saw the Lady Cougars holding their largest lead of the night, 17 points at 38-21, but the deeper and much-improved Lady Raiders refused to fold. A 16-6 Trinity run pulled the Lady Raiders to within seven points of the lead, 44-37 at the 6:45 mark of the fourth quarter.
But that would be Trinity's last gasp. Grayson County then reeled off 13 unanswered points to push the lead up to 20 points, 55-37 with 2:36 left to play.
Wathen led her team with 17 points, while Cassidy Morris added 16.
Freshman Ella Robinson has been inserted into the starting lineup in place of Saltsman and she contributed a fine game for the Lady Cougars with eight points and seven rebounds. Junior Kaylee Masden has overcome her reluctance to shoot the ball recently and it has paid off for the Lady Cougars. She finished with four points and had three steals.
Freshman Rachel Snyder closed out the scoring with two points.
By Don Brown, Local Sports
Reach Don at donbrown@k105.com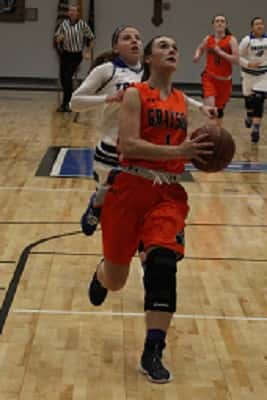 Laura Vincent led the Lady Cougars with
a double-double, 10 points and 17 rebounds.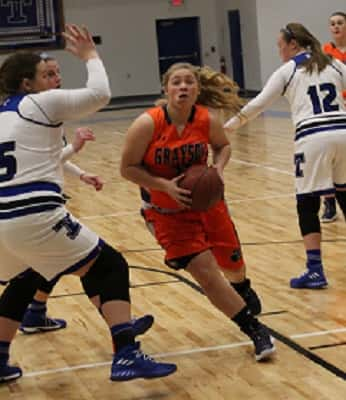 Bailey Snyder had 14 points and nine rebounds
in the Lady Cougar 47-40 win.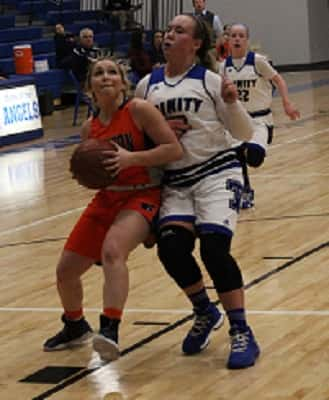 Kenzie Renfrow had 19 points, four rebounds,
three assists and four steals.