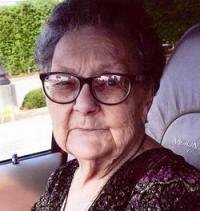 Elizabeth Ann Skaggs, age 85, of Clarkson, KY, passed away Saturday, (January 6, 2018) at Norton's Hospital in Louisville, KY. She was born on June 10, 1932 in Mayesville, KY, the daughter of the late Jess Lee and Agnes Lucille List Chain.
She was a waitress, who enjoyed cooking and taking care of her family. She was a member of the First Baptist Church of Mayesville, and also had attended Minerva Christian Church near Mayesville.
She is survived by two sons, Joe of Leitchfield and Greg Skaggs (Lisa) of Clarkson; two grandchildren, Rebekah Skaggs of Clarkson and Zachary Skaggs of Leitchfield; a very special "adopted" grandson, Scott Collard of Big
Clifty, along with Scott's son, Austin; and several nieces and nephews also survive.
Other than her parents, she was preceded in death by her husband, Ewell, two brothers, Kenneth and Herman Chain; two sisters, Geraldine Crawford and Helen Hamilton; and a stillborn son, Ronald Wayne Skaggs.
Funeral services will be at 2:00 p.m. Tuesday, (January 9, 2018) at the Dermitt Funeral Home in Leitchfield. Bro. J.H. Manion will be officiating. Burial will be in the Clarkson Cemetery.
Visitation will be at the Dermitt Funeral Home from 1:00 p.m. to 8:00 p.m. Monday and from 9:00 a.m. Tuesday until time of services.
Online condolences can be made in the guestbook on our website at www.dermittfuneralhome.com.