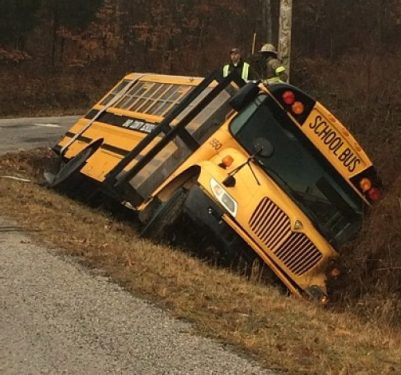 Monday morning at approximately 6:30, the Ohio County Sheriff's Office responded to a report of a school bus accident at the intersection of Herbert Road and Aetnaville Road, near Reynolds Station.
According to multiple media reports, the bus topped a hill on Herbert Road and as it began traveling down the hill, the driver lost control of the bus after it struck an icy patch in the road. The school bus then slid off the road in a curve, coming to rest on its side in a ditch.
There are conflicting media reports regarding how many students were on board at the time of the accident, but Ohio County Central Dispatch confirmed there were eight children and two adults on board, with three children transported to Ohio County Hospital for treatment of minor injuries.
(Photo courtesy of 44News)
By Ken Howlett, News Director
Contact Ken at ken@k105.com or 270-259-6000