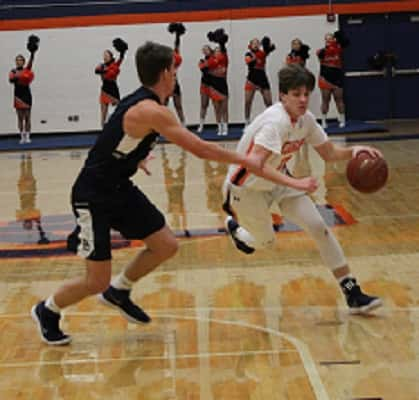 Although the temperatures outside the Cougar Den had moderated a bit Tuesday evening, the shooting inside remained ice-cold for the Cougars as they were defeated by the visiting Ohio County Eagles 43-34.six
Grayson County hit just 6-of-25 from the floor in the first half for a frigid 24 percent. Those kind of shooting numbers would surely spell doom for any team, but remarkably enough, the Cougars trailed by just six points at the half, 20-14 as the Eagles were not much better in their efforts.
When the Cougars opened the third quarter with a modest 5-2 run, they had cut their deficit to just three points, 22-19 with 4:57 left in the period and it seemed as though there might be a game brewing. But the Eagles responded with a 7-2 run that pushed the lead back up to eight points, 29-21 with 2:51 left. The Eagles led by seven, 31-24 heading into the final period of play.
Logan Majors opened the scoring in the fourth quarter with a three-ball at the 5:35 mark to cut the lead to four points, but that would be as the Cougars would be able to get the rest of the way.
Trey Lewis led the Eagles in scoring with 10 points. The Cougars were led by Nolan Shartzer's game-high 11 points. Shartzer also led the Cougars on the glass with five rebounds and added two assists and three steals.
Bailey Logsdon scored seven points and added three boards and three steals. Josh Embry scored four points, while four players, Majors, Caleb Ray, Wyatt Schultz and Matthew Loughran had three apiece to complete the scoring.
The JV boys continued their winless ways, suffering a 45-26 defeat at the hands of the Eagles after giving up the first 12 points of the game. They trailed 17-5 at the end of the first period, and 30-7 at the half.
Jaxon Higdon came off the bench to pour in four three-pointers to finish with 12 points. D. J. Turner added five, Miles Hornbeck contributed three points, while Brett Payton, Zack Bratcher, and Hunter Saltsman all scored two to round out the scoring.
By Don Brown, Local Sports
Reach Don at donbrown@k105.com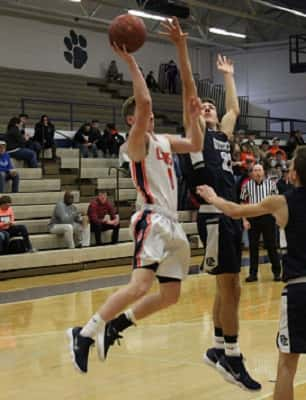 Nolan Shartzer led the Cougars with 11 points.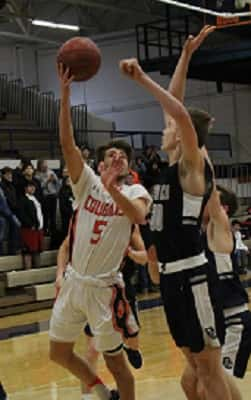 Bailey Logsdon had seven points,
three rebounds and three steals in the loss.