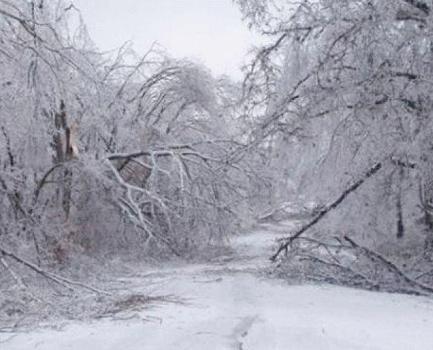 The National Weather Service (NWS) has issued a WINTER STORM WARNING for Grayson and surrounding counties as the winter's strongest storm system nears Kentucky.
The NWS says the warning will go into effect Friday morning at 3:00 and end Saturday at midnight.
Officials are predicting up to a quarter inch of ice to cover the ground by Friday afternoon, with a high probability of tree damage and power outages. The NWS said two to four inches of snow is expected to fall beginning early Friday afternoon and into Friday evening. Locally higher amounts are possible.
Authorities also warned that motorists must prepare for "significant reductions" in visibility.
With rain expected to begin falling in the area in earnest Thursday night, temperatures will steadily fall throughout Friday morning, dropping from about 59 degrees at midnight to 31 degrees at 6:00 Friday morning.
Leitchfield Public Works Director Sheila Puckett said her office will "be monitoring the weather closely" throughout the overnight hours, as laying salt on the roadways while it's raining renders the salt useless. But, Puckett said if the rain subsides or becomes very light rain (think sprinkles), workers will begin distributing salt onto the roadway, starting with priority roads, such as Wallace Avenue, Commerce Drive and industrial areas.
Once the rain ends and sleet begins, widespread salt distribution will begin.
Temperatures in the area are not predicted to rise above freezing until Monday (when its again predicted to snow), where a high of only 33 is predicted, leading to the possibility that ice and snow will remain driving hazards on less traveled roadways for several days.
By Ken Howlett, News Director
Contact Ken at ken@k105.com or 270-259-6000