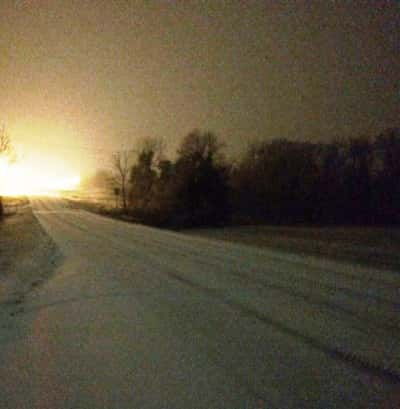 Grayson County continues to experience severe winter weather, with driving conditions worsening.
With snowfall becoming heavier at around 4:00, the already slippery roadways, covered in a mixture of ice and snow, have given way to dangerously slick thoroughfares, including heavily traveled roads and secondary routes. Grayson County Deputy Sheriff's are also reporting visibility in parts of the county is down to about 50 feet due to the increasingly heavy snowfall.
There have been numerous instances of driver's leaving the roadways throughout Leitchfield and Grayson County as driving conditions worsen. Leitchfield Public Works Director Sheila Puckett implored citizens to stay home, if possible.
"If you have no reason to be out, then don't go out," Puckett said. "Unless it's an emergency, stay home."
As of 4:00 Friday afternoon, Puckett said road crews had covered Leitchfield roadways with 25 tons of salt and will continue to plow and distribute salt throughout Friday night and Saturday morning on priority streets. Puckett noted that the city used only 35 tons of salt all of last winter.
The National Weather Service predicts the snowfall to end around 11:00 Friday night, but with temperatures predicted to drop to the upper teens Saturday morning, driving conditions will remain hazardous.
By Ken Howlett, News Director
Contact Ken at ken@k105.com or 270-259-6000