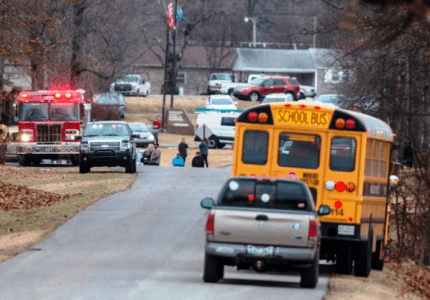 A shooting at Marshall County High School, in the western Kentucky town of Benton, about 136 miles southwest of Leitchfield, has resulted in two students being killed, with 12 other students suffering gunshot wounds.
A 15-year-old male student was arrested at the scene by the Marshall County Sheriff's Office and will be charged with murder and attempted murder. The slain victims were a boy and a girl, both 15-years-old. The girl died at the scene and the boy perished at a hospital.
Five students, all males between the ages of 15 and 18, were airlifted to Vanderbilt University Medical Center and are expected to survive, a trauma surgeon told media outlets.
Kentucky State Police Commissioner Richard Sanders said the suspect, armed with a handgun, walked into the school at 7:57 Tuesday morning and started shooting. Sanders said the first 911 was made two minutes later, with police arriving on scene at 8:06.
Five other students were injured, but were not shot in the incident.
Benton is located only about 25 miles from Heath High School, the site of a deadly school shooting in December 1997 that killed three students and injured five others.
Fourteen-year-old Michael Carneal pled guilty in the murders and received a life sentence with the possibility of parole after 25 years (2023). According to the plea deal, Carneal is allowed to receive mental health treatment while incarcerated.
He is being held in the Kentucky State Reformatory in La Grange.
(Photo courtesy of the Paducah Sun)
By Ken Howlett, News Director
Contact Ken at ken@k105.com or 270-259-6000