The battle for the 7th-grade championship of the Green River Valley Conference turned out to be a one-sided affair from the start as the Hancock County Hornets dominated play to claim the title, 48-30 at Butler County Middle School, in Morgantown.
The Cougars led once in the game, 2-0 a little over a minute into the game, and it was tied 4-4 at the 4:15 mark, but the Hornets closed out the opening period on a 9-2 run and the Cougars were never closer than five points the rest of the game.
The Hornets played an aggressive 2-2-1, full court press which gave the Cougars fits, especially in the early moments of the game. Grayson County turned the ball over five times in the first quarter and trailed by seven points, 13-6 heading into the second period, and trailed by nine, 23-14 at the half.
When Hancock's Kaleb Keown converted an old-fashioned three-point play with 12 seconds left in the third quarter, the lead had ballooned to 14 points, 34-20, and the game was pretty much decided. Keown was unstoppable for the Hornets and finished with a game-high 22 points and double-digit rebounds.
Nolan Hornbeck led the way for the Cougars with 17 points. River Blanton had seven points, Brayden Childress had five and Jerron Salazar chipped in one to complete the Cougar scoring.
Despite the loss, the Cougars had a terrific season, finishing with a record of 20-3.
By Don Brown, Local Sports
Reach Don at donbrown@k105.com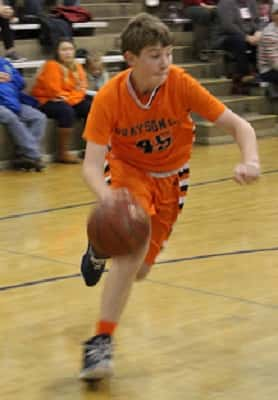 River Blanton drove the baseline in the first
period. Blanton finished with seven points.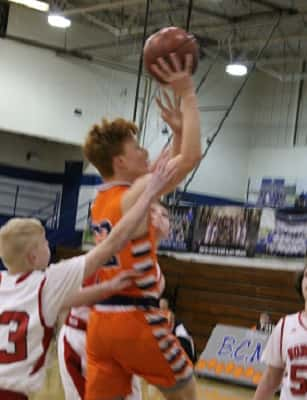 Nolan Hornbeck led the Cougar effort with 17 points.