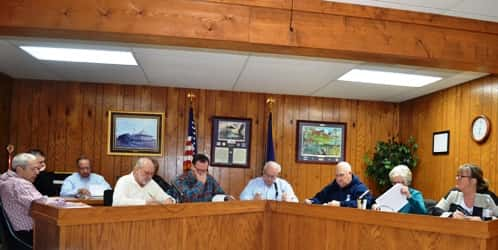 Animal Shelter bids
At Monday night's Leitchfield City Council meeting, City Attorney Kenneth Smart opened bids for the completion of the work to enclose the entire Leitchfield Animal Shelter.
The bids were offered by Future Designs Building Materials ($11,090), Simon's Heating ($10,900), Brite Electric Supply ($3,441), Dale England Plumbing ($12,900), and Saltsman Drywall ($4,850), for electrical, plumbing, drywall work, and materials associated with the completion of the project.
Council members will now evaluate the bids and make decisions at the next scheduled City Council meeting on February 20.
Amended budget approved
The city council approved an amended 2017-2018 budget, which includes additional payments for work at the new ballpark complex ($653,000), supplemental money for the Leitchfield Animal Shelter budget pertaining to veterinarian contract services ($20,000), a widening of Moll Drive at Kenneth H. Goff Drive ($10,000), an increase in the city's Alcohol Beverage Control budget ($8,000), and an increase in the city's Parks Department budget ($21,000).
In total, about $712,000 was added to the city's budget.
LPD to purchase new truck
Leitchfield Police Chief Bryan Langdon was given approval to purchase a new truck for the department.
The vehicle, being purchased from Freedom Dodge in Lexington on state contract, will cost $27,000, plus $7,000 for police equipment to be added to the truck. The purchase will be paid for with alcohol sales tax revenue.
Executive session
Council members entered into Executive Session for about 15 minutes to discuss the possible purchase of property and emerged saying no action was taken.
By Ken Howlett, News Director
Contact Ken at ken@k105.com or 270-259-6000