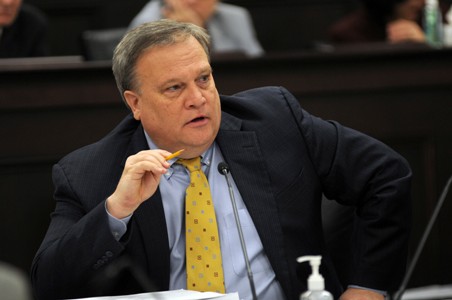 A mandatory 401(k)-style plan will not be part of an overhaul of Kentucky's public pension systems, lawmakers said Wednesday, because the savings wouldn't be sufficient to make it worthwhile to the state.
Senate President Robert Stivers, R-Manchester, said the overhaul, which is now in the hands of legislative staffers, has undergone substantial change since it was unveiled last October. The most significant being a move away from the 401(k)-style plan endorsed by Republican Gov. Matt Bevin.
The provision was the most controversial part of the proposed pension overhaul, and drew boisterous protests from government employees.
With legislative elections coming later this year, angering Kentucky's politically active state workers and teachers wasn't seen as a wise move by many incumbents on the ballot. But lawmakers said the decision to stray from the 401(k)-style plan had only to do with dollars and cents.
"If you're in a defined benefits system, you want to continue in a defined benefit system," Stivers said.
Kentucky's pension plans for government employees and school teachers are among the most underfunded in the nation, to the tune of somewhere between $30 billion and $80 billion.
House Speaker Pro-Tem David Osborne said data shows changing employees to a 401(k)-style plan has short- and long-term financial costs.
Stivers said lawmakers are considering giving new teachers the ability to choose from a variety of retirement plans, but he didn't elaborate.
Drafting the roughly 200-page bill has been a tedious and long process for lawmakers, who are now halfway through this year's legislative session.
By Kentucky Today