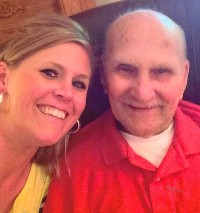 Calvin Fulkerson age 89, of Clarkson passed away on Friday, March 2, 2018 at Kensington Nursing Home in Elizabethtown, KY. He was born in Grayson County, KY, the son of Clarence Fulkerson and Bertie Hornback Fulkerson and was married to Mary Alice Jacobs Fulkerson.
Calvin was a Teacher, Principal and Asst. Superintendent for Grayson County Schools and was a member of Clarkson Baptist Church.
Visitation is Monday, March 5, 2018 frpm 3-8 PM CST; Tuesday, after 9:00 AM CST at Clarkson Baptist Church. Funeral services will be Tuesday, March 6, 2018 at 11:00 AM CST at Clarkson Baptist Church with Bro. Art Hatfield officiating. Burial to follow in Mt. Zion Cemetery.
He was preceded in death by his Parents; two Brothers and two Sisters.
He is survived by his wife of 69 years; Mary Alice; three sons: Ronald (Sharon), Calvin Ray (Cindy) and Gary Wayne (Tracey); two daughters: Debbie Carman (Ova) and Susan Webb (Scotty); twelve Grandchildren; thirteen Great-grandchildren and one sister Alta Mae Parks.