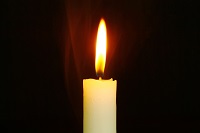 Morse Lee Gonser, age 81 of Clarkson passed away Tuesday, March 6, 2018 at the Hardin Memorial Hospital in Elizabethtown. He was born April 23, 1936 in Rome City, Indiana the son of Willis and Gola Mae Greenawalt Gonser.
He is survived by his wife, Thelma Gilbert Gonser, son, Morse Clayton Gonser both of Clarkson, sister, Gloria Ann Gonser of Sturgis, Michigain, two nieces and one nephew.
Other than his parents, he was preceded in death by three brothers, Walter, Robert and William Alton Gonser and one sister, Mary Louise Yoder.
Cremation was chosen in lieu of burial.