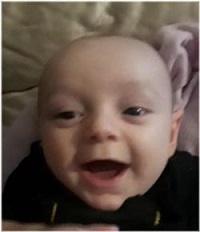 Austin Paul Rankin, 5 months, 22 day old son of Nicole Norsworthy (Dalton Rankin) of Millwood, KY and Richard Hudspeth of Leitchfield, KY passed away Friday, (March 09, 2018) in Millwood, KY.
He was born on September 15, 2017 in Leitchfield, KY.
Other than his parents, he is survived by his brother and best friend, Dallas Rankin of Millwood and a sister, Alesana Sophia-Renea Dean of Big Clifty, KY; his maternal grandparents, Carl Wooldridge of Leitchfield and Ginger Wooldridge of Sun Valley, NV; paternal grandparents, Crystal and Jeff Bishop & Jeff and Patty Rankin, all of Leitchfield; paternal great-grandmother, Doris "Grammy" Matthews of Elizabethtown, KY; four uncles, Patrick Wooldridge, Logan Wooldridge, and Billy Winchell, all of Leitchfield, Stephen Dutton Jr. of Okeechobee, FL; four aunts, Heather Hudspeth, Charity Carter, Baily Rankin and Emily Rankin, all of Leitchfield; and four godfathers, Shawn Woosley of Clarkson, Jonathan Howell, Justin Hack and Steven Barlow, all of Leitchfield.
Funeral services will be at 2:00 p.m. Tuesday, (March 13, 2018) at the Dermitt Funeral Home in Leitchfield. Bro. Stephen Dutton Sr. will be officiating.
Visitation will be at the Dermitt Funeral Home from 10:00 a.m. Tuesday until time of services.