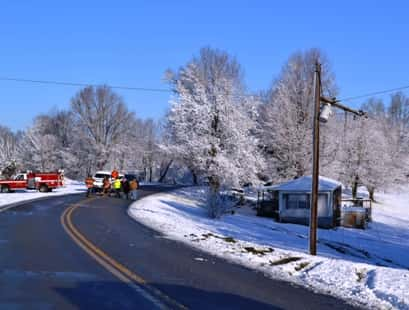 The late Sunday night, early Monday morning snowfall, coupled with temperatures dropping as the sky cleared of cloud cover at about 6:00 Monday morning, turned the slushy roadways in Grayson County to ice-covered, causing several non-injury or minor injury accidents.
The first of the wrecks occurred on the Western Kentucky Parkway as a car slid off the interstate at about 6:15. A vehicle then flipped onto its side on Summit Road near Big Clifty, but no one was injured. Not long after, there was a two-car accident at the intersection of South Main Street and the William Thomason Byway, as Leitchfield police reported the intersection to be a " a sheet of ice."
There were multiple other wrecks in the city limits of Leitchfield, keeping city officers busy all morning.
A single-car accident involving multiple children occurred at the 103 mile marker of the parkway with only minor injuries reported. The Grayson County EMS ambulance responding to the wreck struck a guardrail head-on after the driver lost control of the vehicle on an ice-covered bridge. Minor damage was done to the ambulance, according to EMS owner Kevin Pharis, and no EMS personnel were injured.
At about 7:45, two cars left road in the 9800 block of Anneta Road, with one of the vehicles striking a Warren RECC pole, knocking out power to 53 homes. The other vehicle struck a ditch. Again, no one was injured.
Rising temperatures, plus the work of salt trucks and road scrapers ended the spurt of accidents at around 8:30.
(All photos of scene on Anneta Road after truck strikes utility pole and car travels into ditch)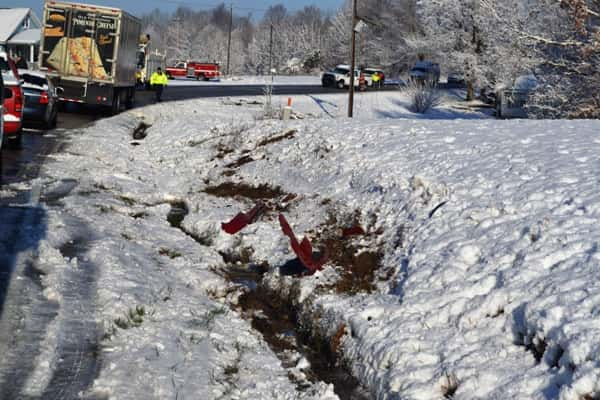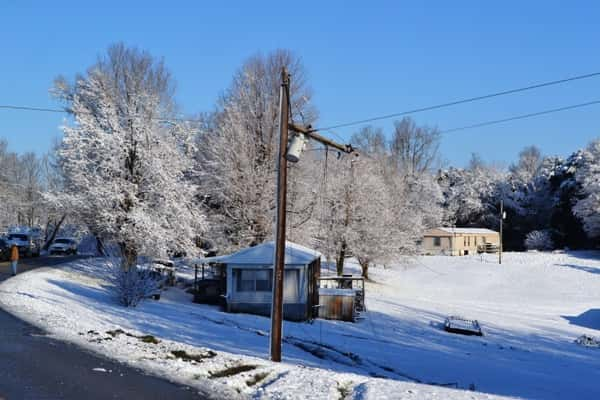 By Ken Howlett, News Director
Contact Ken at ken@k105.com or 270-259-6000