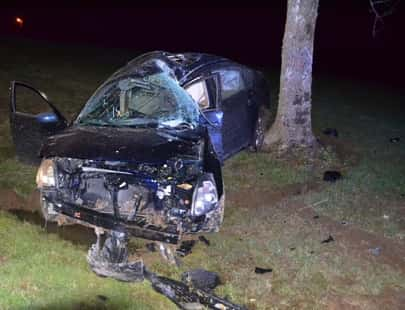 Thursday night at approximately 10:20, the Grayson County Sheriff's Office, Caneyville Fire Department and EMS responded to the 9100 block of Beaver Dam Road on the report of a single-car accident.
Upon arriving at the scene, Deputies Taylor Logsdon, Fred Norder and Kelsey Overton found a Nissan Maxima wrapped around a tree, with no driver in sight (dispatch had informed deputies while they were en route that the female driver was seen walking away from the accident on Beaver Dam Road).
Deputies, Caneyville fire department members and EMS personnel searched the area surrounding where the high-impact wreck occurred, but did not locate the driver, 33-year-old Angela Nguyen, of Caneyville.
Just before midnight, and after first responders had been searching for over 90 minutes, Caneyville fire reported finding Nguyen at Brooks Heating & Air, located in the 11000 block of Beaver Dam Road, nearly two miles from the accident scene. Nguyen was suffering from serious injuries, including a probable broken arm and leg, and she had been walking with no shoes on.
She was transported the short distance to Caneyville Elementary School by EMS where she was airlifted to University of Louisville Hospital at 1:00 Friday morning.
Based on marks at the accident scene, Nguyen was traveling west on Beaver Dam Road when she lost control of the car, with the Nissan getting sideways as it left the road. The vehicle missed hitting a utility pole by inches before traveling sideways another 25 to 30 feet and striking a large tree directly on the driver's side door.
The driver's side door was pushed into the passenger compartment nearly a foot.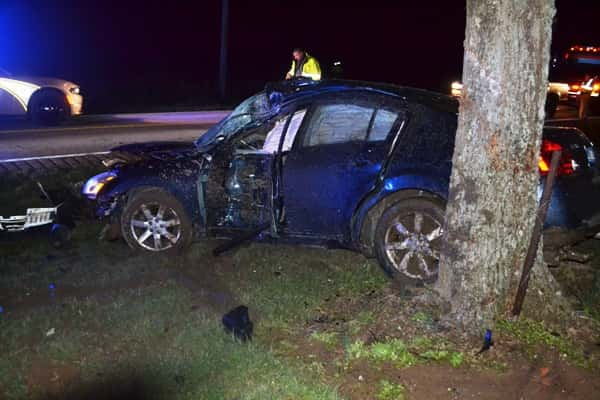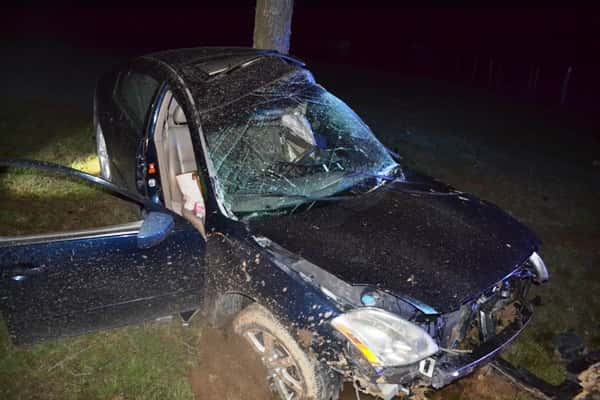 By Ken Howlett, News Director
Contact Ken at ken@k105.com or 270-259-6000