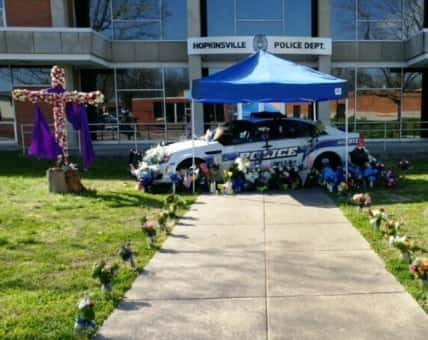 Law enforcement personnel, whether a city officer, sheriff's deputy, state police, or federal officer, maintain a special bond built upon their belief in law and order, and a shared risk of life, whether on- or off-duty.
That comradery and respect among the nation's protectors is never more evident than when an officer is killed.
On March 29, Hopkinsville Police Officer Phillip Meacham was gunned down by a man posing as a police officer who pulled Officer Meacham over while he was driving his personal vehicle. Only hours later, the suspect was shot and killed by police near Clarksville, Tennessee.
Grayson County Deputy Sheriff Fred Norder knew Officer Meacham, and traveled to Hopkinsville for the fallen officer's funeral on Wednesday. Below, Deputy Norder offers a paradox of emotions as he found both beauty and sadness encompassing the funeral and funeral procession, along with the show of love and support for Officer Meacham's family and co-workers.
In his own words, Deputy Norder describes the day Officer Meacham was laid to rest:
I arrived at Christian County High at 9:30 in the morning for a 10:00 briefing. Officers and the public were greeted by two fire engine ladder trucks holding an extremely large American flag. The spacious parking area quickly went from nearly no cars to overflowing with vehicles. Countless officers from all over Kentucky and Mississippi, as well as the Chicago, New York City, Baltimore, and Nashville Police Departments, and other law enforcement organizations, were in attendance.
The public and family were seated first in the gymnasium, as the officers were seated at 11:00. The basketball court was filled with Hopkinsville Police Officers, and family and friends of Officer Meacham. By the time all of the officers were assembled, the gym was at near capacity.
After the services, we all filed to our cars, and once the procession began we traveled through Hopkinsville where it seemed as though the city had simply stopped moving. All vehicles were stopped and people were standing throughout the city holding flags, holding their hands over their hearts, and with hats removed.
It was hard not to choke up.
Scattered throughout the city, several areas had additional fire trucks and other maintenance vehicles holding large flags. Several businesses did the same with their company vehicles, as people along the procession route held signs supporting the police.
As we exited the city and onto a rural highway, the procession spanned several miles — You couldn't see the front or rear of the procession.

I was wrong in assuming that we wouldn't see very many onlookers, as numerous farm tractors were scattered along the 15 mile route to the cemetery, holding U.S. flags and police flags. Numerous residents stood by the roadway covering their hearts.
When arriving at the cemetery, we saw that the Louisville Metro Police Department had its horse patrol and bagpipes in attendance.
The most memorable part of the day, other than seeing so many supporters, was an elderly farmer standing with his hand over his heart, and with a war veteran ball cap on, standing near his two John Deere tractors; one of his tractors was holding a police flag.
I remember Phillip from going to legal classes in Richmond with him last year. We ate lunch together several days while attending those classes. He was a very nice man, and the ultimate professional, making this day all-together heart-wrenching because of the loss of life, and beautiful because of the love displayed by his town.
This hero's wife and daughter witnessed his murder. I ache for his family and his police family. Despite the tragedy, this was one of the most beautiful displays of respect for a fallen hero I have ever witnessed.
It was awesome.
Police officers recognize and accept the inherent risk they take whenever they leave their homes, and it's the acceptance of that risk in an increasing violent and unpredictable world that makes them heroes.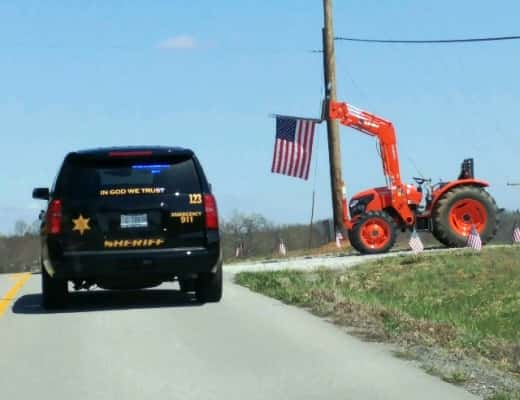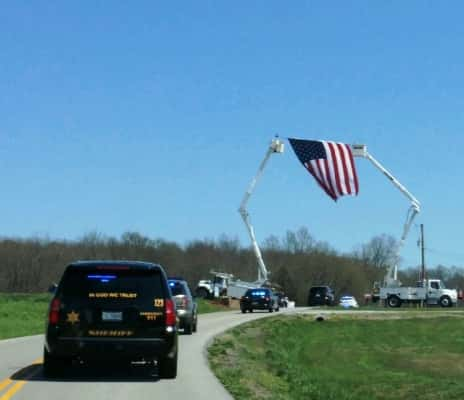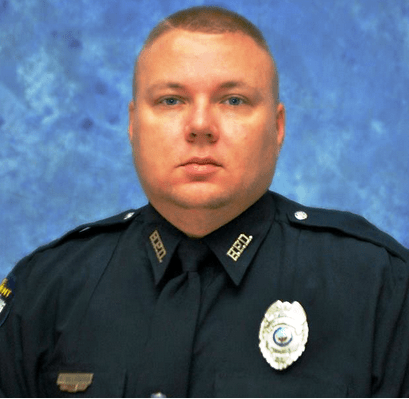 By Ken Howlett, News Director
Contact Ken at ken@k105.com or 270-259-6000