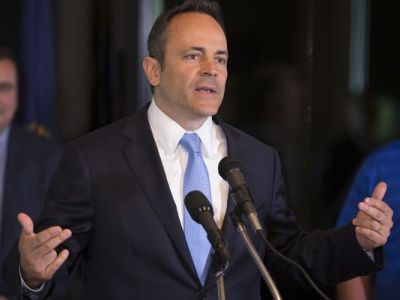 With teachers and other public employees expected in Frankfort on Friday to protest the vetoes of the budget and tax bills and signing of the pension reform legislation, Gov. Matt Bevin went on the offensive Thursday morning.
Bevin took the Kentucky Education Association to task, calling the union a "fraud" during an interview on WHAS Radio's Leland Conway Show. He took his disdain for the KEA, the union that represents teachers, to a new level.
"The KEA is a fraud," Bevin said.  "It's unleashed this mayhem for the sake of unleashing mayhem.  You look at the last time they were here, the people from the Socialist Party of American had a table where they were signing up people.  This wasn't about teachers, it wasn't about students."
"The KEA has spent millions of dollars of teachers' dues to elect the previous governor, who never fully funded their pension, took money that should have gone into that, and spent it on other wasted political projects."
Bevin spoke to Conway about the reaction after he put more money in the budget for pensions than his predecessor, Democrat Steve Beshear, did in eight years.
"They booed, they hissed, they came and marched and booed and swore at and hissed at everybody that voted for those bills.  Then I vetoed the [budget and revenue] bills, and they say they need to leave school and come here and ask for them to be overturned," he said. "They got exactly what they say they wanted.  They don't know what they want, they want mayhem.  They are wasting the teachers' hard-earned money.  They are not representing what's best for the teachers, and they're sure not representing what's best for our students."
He also wondered how the school cancellations, due to teachers coming to Frankfort for a protest, will disrupt the plans of students' families for such things as graduations and vacations.  "I think the KEA has overplayed their hand," he said.
Lawmakers return Friday for the last two days of the 2018 regular session and Bevin indicated the budget and tax reform may or may not need to call a special session later.
"There's still time in two days to get things done that could be at least a step in the right direction, better than the one we took," he said.  "The question is, have we done enough in this first step?  There will need to be multiple steps.  Can we do it in the regular session or will there have to be a special session?  These things will be determined."
He said he has had many meetings with House and Senate leadership, as have many on his team.  "I was working on it early this morning with folks."
Bevin described what he'd like to see in a tax bill.  "When you do tax reform, if you're going to raise taxes on X, Y and Z, have as many offsets for the very same people as you can.  It isn't to say that it will all be tax or revenue neutral, but at least have the extenuating impact be as neutral as possible."
As for why he vetoed the tax and budget bills, Bevin said: "They weren't looking out for the people that are paying for everything to the degree that I think they should have and could have.  I think when we're done, we'll have something better."
By Kentucky Today