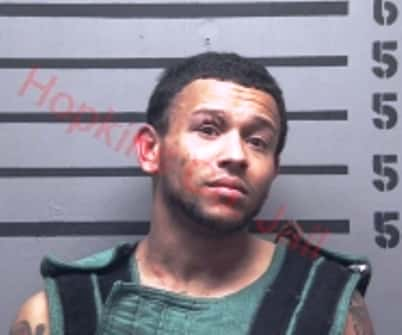 On Thursday night at approximately 11:25, the Madisonville Police Department attempted to execute a traffic stop on a 1999 Honda when the vehicle fled.
As the driver, 29-year-old Jessie Gobin, of Providence, attempted to flee police he fired multiple shots police from the driver's side window, missing the officer and his cruiser.
Gobin then lost control of the Honda and was ejected from the vehicle as it flipped. He fled the area on foot, with authorities locating a 9mm handgun at the scene, according to media reports.
Madisonville police said Gobin was captured early Saturday morning after receiving a tip on his location. After Gobin was arrested, he was treated and released from Baptist Health Madisonville and transported to the Hopkins County Detention Center.
He has been charged with attempted murder of a police officer, possession of a handgun by a convicted felon, two counts of fleeing or evading police, wanton endangerment, and violating an EPO/DVO, along with several traffic violations.
He was also served with two warrants out of Webster County and one from Daviess County.
He's being held on two bonds totaling $30,000, according to the HCDC website.
By Ken Howlett, News Director
Contact Ken at ken@k105.com or 270-259-6000