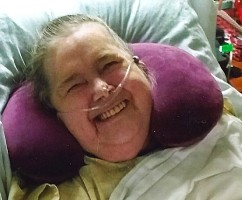 Ellner Simons, age 76 passed away on Tuesday, April 24, 2018 at Georgetown Manor Nursing Home. She was born on January 31, 1942, the daughter of Jesse and Deile Macel Verbert. She was a cook at Delta Lounge and a member of Mt. Zion Baptist Church.
Visitation: Saturday, April 28, 2018 after 9:30 AM CST at McGrew Baptist Church Funeral service: Saturday, April 28, 2018 at 1:00 PM CST at McGrew Baptist Church. Bro. Delbert Watson officiating. Burial to follow in Gibson Cemetery.
She was preceded in death by her Parents, Husband; one son, Anford Miller, Jr; one grandson, Marcus Miller, Jr.; a sister, Velma Lawson and a nephew, Paul Lawson.
She is survived by two sons: Marcus Miller (Cathy) and Marvin Miller (Sandy); one daughter, Rita Mellick (Bobby); two sisters: Rose Bostic and Margaret Gibson; one brother-in-law, Harold and Marilyn Miller.