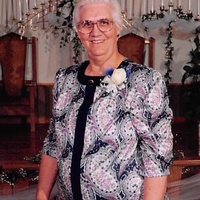 Velda Imitha Willis, age 85, of Millwood, KY, passed away Tuesday, (April 24, 2018) at Norton Hospital.
She was born on December 26, 1932, in Iberia, KY, the daughter of Jesse and Rebecca Williams.
She was a seamstress who enjoyed canning, quilting, sewing, cooking and taking care of her family and all the neighborhood children. She was a member of Eveleigh Presbyterian Church for over 50 years.
She is survived by son Wayne Willis of Millwood; daughters Audrey Sharp (Ronald) of Owensboro, Doris Fay Embry (Carl) of Clarkson, Letta Kay Hayes (Roger) and Marlin Delmonico (Fred) both of Leitchfield; sixteen
grandchildren; twenty-one great-grandchildren; and six great-great grandchildren.
Other than her parents, she was preceded in death by her husband Millard Willis, two sons, Clellan Wade Willis and Granville Allen Willis and eleven brothers and sisters.
Funeral services will be at 1 p.m. Friday, (April 27, 2018) at Dermitt Funeral Home in Leitchfield. Burial will be in Leitchfield Memory Gardens.
Visitation will be from 5 p.m. to 8:00 p.m. on Thursday (April 26, 2018) and from 10:00 a.m. Friday until time of services.
Online condolences can be made in the guestbook on our website at www.dermittfuneralhome.com.