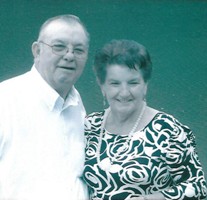 Wanda Ray Bradley, age 75, of Clarkson, KY passed away at her residence on Wednesday, April 25, 2018. She was born in Grayson County, Ky. on February 7, 1943 daughter of the late Bryant Childress, Sr. and Luella (Brooks) Childress and was married to James Bradley. She was a Housewife and member of Short Creek Missionary Baptist Church.
Wanda was preceded in death by her Parents, three sons; Mark, Frank, Gerald Frank and Jason Frank, two brothers; Pat Childress and Rev. Lonnie Childress and two sisters; Anna Williams and Maxine Bush.
She is survived by her husband, James, six sons: Timmy Lee Frank, Jeffery Frank, Anthony Frank, Kip Frank, Neil Harrison and James Bradley, Jr., two daughters; Rose Downs and Latasha Woosley, two brothers; Bryant Childress, Jr. and Floyd Childress and two sisters; Mary Langdon and Betty Snyder Baker.
Several grandchildren and great grandchildren also survive.
Funeral services are
Saturday, April 28, 2018, at
11:00 AM at Rogers-Oller Funeral Home. Burial will be in Cedar Hill Cemetery. Visitation is
Friday,
April 27, 2018 , from
11:00 AM to 8:00 PM at Rogers-Oller Funeral Home.